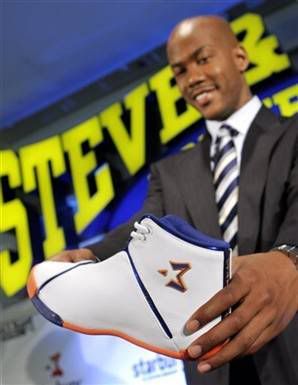 New York Knicks NBA player Stephon Marbury will appear on theOprah show today to feature his tennis shoe line, the Starbury.
The show, titled "Fab Without A Fortune", features ways to look great without spending a lot of money. What's so special about the Starbury sneaker? It retails for $14.98.
Now I'm sure you may have heard tragic stories about youth being robbed or killed over a pair of shoes. Not only is the price tag affordable (especially for lower income families), but it just might deter these senseless acts of violence.
"You see kids that don't know any better," Stephon says. "They know that the shoes cost [a certain] amount, and it's like, Okay, well, I'm going to take his sneakers and I'm going to sell them."
Stephon remembers as a youth, his family couldn't afford expensive sneakers. He tells Oprah, "My mother always said, that's grocery money. So for me, allowing kids now to be able to go to the store and spend their money on sneakers and to be able to buy it themselves, it's a movement. We've created something that everyone across the world is benefiting from."
However, Lebron James, another NBA player who has a 90 million dollar endorsement with Nike, took a cheap shot at Marbury recently saying he couldn't imagine endorsing a product that cheap and will never have a discount line. "Me being with Nike, we hold our standards high."
Whatever LeBron.
When Marbury heard about LeBron's remarks, he said "I'd rather own than be owned".
Good comeback.
On the Starbury website, there are many comments from people that are excited and thankful that Stephon has launched this venture. On the show he says:
"One lady, I felt her soul when she hugged me. She hugged me so tight, and she was like, 'You just don't know what you've done for my family, for me, for people across the world, and for me to be able to sit here and buy a pair of sneakers, it makes me feel great to be able to spend my money.'"
Source 1: Oprah.com
Source 2