In today's Washington Post, an interesting read titled
Black Culture Beyond Hip Hop
, emphasizes that black culture is in trouble because it is seen as synonymous with hip hop culture.
Some quotes from the article:
"...hip-hop culture is not black culture, it's black street culture. Despite 40 years of progress since the civil rights movement, in the hip-hop era -- from the late 1970s onward -- black America, uniquely, began receiving its values, aesthetic sensibility and self-image almost entirely from the street up."

"Sociologists have a term for this pathological facet of black life. It's called "cool-pose culture." Whatever the nomenclature, "cool pose" or keeping it real or something else entirely, this peculiar aspect of the contemporary black experience -- the inverted-pyramid hierarchy of values stemming from the glorification of lower-class reality in the hip-hop era -- has quietly taken the place of white racism as the most formidable obstacle to success and equality in the black middle classes."
As I mentioned in a previous post, when I think of hip hop culture, two things that come to my mind are bling and conspicuous consumption (among other things):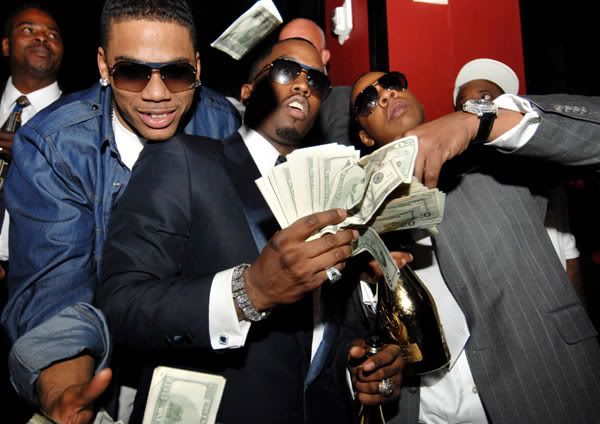 Just thought I'd give you a visual.
Read the article
here
.
In another Washington Post article,
A Parent in Prison, a Void at Home
, efforts are being made by a Chicago coalition to provide family programs and support services within the prison system.
The article features the story of Shaun Carr, who was once jailed himself, raising his two daughters while his wife is in prison. Carr is forming a support group for men with incarcerated spouses.
The article sites that in the Chicago area, where there are an estimated 90,000 children of the imprisoned and paroled, a fledgling coalition of community groups and state politicians is developing strategies to create better lines of communication between children and their jailed parents, and to diminish the severe shortage of help.
I would concur that providing supportive services for families in the prison system is important for two reasons: 1) Blacks make up 43.9 percent of the state and federal prison populations but only 12.3 percent of the U.S. population; and 2) children of prisoners are more likely to be involved in the criminal justice system.
Read the article
here
.