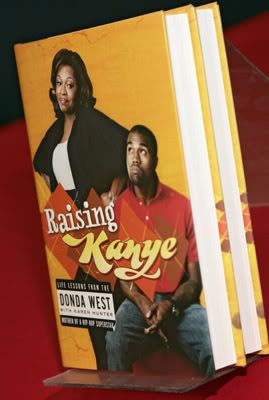 I'd like to wish all the mothers, grandmothers, mother figures and mothers-to-be Happy Mothers Day this Sunday!
This post highlights hip hop superstar/music producer/Grammy award winner Kanye West and his mother, Dr. Donda West, who will release the book
Raising Kanye: Life Lessons from the Mother of a Hip Hop Superstar
on Mother's Day.
Dr. West, a former English professor, raised Kanye as a single mom in Chicago. She previously served as the Chair of the English Department at Chicago State University and is now the Chief Executive Officer of Super Good, a company of Kanye West enterprises. The book, written with Karen Hunter, features never before seen photos and personal stories she shares about raising her son. She recently gave an interview to Allhiphop.com about why she wrote the book:
"I wrote the book because a lot of people had urged me to write something single mothers would want to read. There are sides of Kanye that not too many people know about. Kanye has a persona and a person. In the book, I talk a lot about the person Kanye West. His story is bigger than mine. I came to believe that maybe there is something that I did as a parent that might be interesting enough for another parent to consider".

I personally think this book is a must read, especially if you're a parent. I mean, with all of the recent dire statistics on black men--and Kanye being a black man--you would have to consider that statistically:

1. Kanye had a 41% chance of special education placement in school;
2. Kanye had a 50% chance of dropping out of high school; and
3. Kanye had a 1 in 3 chance of being in prison, on probation or parole
Whew.

And yet despite the barriers facing her as a single mother raising a black boy, Kanye beats the odds and turns his passions into his dreams.

Dr. West also mentions Kanye's early desires to give back to the community:


"Before College Dropout (his first album)even dropped, Kanye looked at me and said, "Mom, when are we going to give back?" That's when the foundation was born, the Kanye West Foundation, and the program we have now Loop Dreams that we're putting in the boys and girls club. That made me feel good, because I instilled in him a person that wanted to give back and was concerned with how he could help someone else. That was one of my very proudest moments".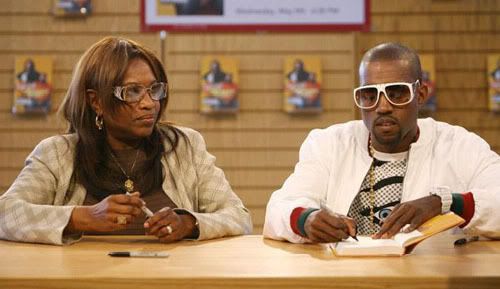 Dr. West and Kanye at a booksigning at Borders bookstore in Los Angeles.
A great Mother's Day gift!
Read the entire interview with Dr. West and AllHipHop.com
here
.