Warner Records executive Kevin Liles hosted the Make It Happen Foundation's power brunch in Hollywood on Sunday. The brunch honored Rodney and Holly Robinson Peete's charitable efforts with their HollyRod Foundation.
Rodney Peete, Rhonda Mims, Holly Robinson Peete, Kevin Liles, Tamsin Smith
The HollyRod Foundation was established in 1997 by actress Holly Robinson Peete and her husband, former NFL quarterback Rodney Peete in honor of Holly's father, Matthew Robinson, Jr. who was diagnosed with Parkinson's Disease at the young age of 46. Prior to his diagnosis, he was a successful television writer and producer for such shows as the Cosby show and was the original Gordon on Sesame Street. He succumbed to the disease in 2002.
While caring for Holly's father, Holly and Rodney encountered many patients that did not have access to expensive medications, services and treatments. Inspired by these patients and Holly's father, the HollyRod Foundation was created to help Parkinson's Disease patients around the country.
In 2002, HollyRod partnered with the Center for Parkinson's Research and Movement Disorders at the Keck School of Medicine of the University of Southern California and established the HollyRod Compassionate Care Program. Through this program, HollyRod is able to provide patients with financial and medical assistance.
HollyRod holds various fundraisers, such as the DesignCure, a night of music and fashion as well as an annual pre-Super Bowl party.
Shawn Robinson, Kevin Liles, Debra Lee, Sandye Lomax
Kevin Liles began his career in 1991 as an unpaid intern at Def Jam records and rose to his current position as Executive Vice President of the Warner Music Group. A native of Baltimore, he released his first book, Make It Happen: The Hip Hop Guide to Success, and in 2004, launched the Kevin Liles Foundation, a trust that invests in youth through sports, education and community organizations. He was recently recognized as an "Urban Hero" for his philanthropic work throughout the country.
Nick Cannon and BET CEO Debra Lee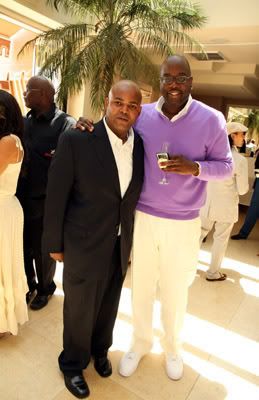 Bad Boy Records Harve Pierre with Mike Kyser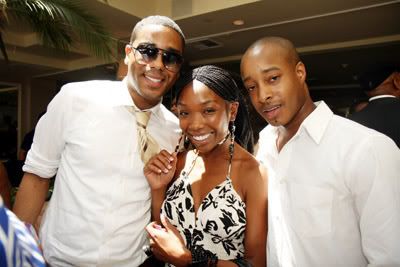 BJ Coleman, Brandy, Adir Curtis
Photos by Johnny Nunez/Wireimage