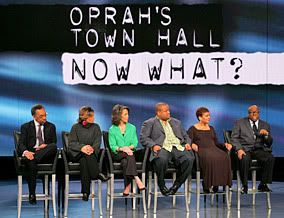 Today on the Oprah show, an encore presentation of
A Hip Hop Town Hall Meeting
Pt. II will air with guests Russell Simmons, Grammy winning rapper Common, record exec Kevin Liles and Dr. Benjamin Chavis, former CEO of the NAACP and now CEO of the Hip Hop Summit Action Network, which he co-founded with Simmons.
The town hall meetings were in response to radio shock jock Don Imus' controversial remarks about the Rutgers women's basketball team. During an interview on NBC's the Today show, he stated:
"I know that that phrase [nappy-headed hos] didn't originate in the white community. That phrase originated in the black community. And I'm not stupid. I may be a white man, but I know that these young women and young black women all through that society are demeaned and disparaged and disrespected by their own black men and that they are called that name. And I know that, and that doesn't give me, obviously, any right to say it, but it doesn't give them any right to say it."
Imus' remarks has begun a dialogue that Oprah says she wanted to have for years. The guests discussed the hip hop culture and the sexual exploitation of women.
Some comments from the show:
Dr. Chavis:
"Hip-hop artists are not responsible for what Don Imus did. Don Imus was a racist. Don Imus was a sexist, and there's no way that Don Imus can blame hip-hop for what he did .... that is not to excuse hip-hop. Hip hop is not perfect. We've got to make it better. But we make hip-hop better by making society better, because hip-hop reflects the contradictions of society. There's too much poverty, there's too much injustice, and there's too much bad treatment of women in our society."
Common:
"Hip-hop has been this child that we had. Our elders kind of abandoned the child at a young age and said, 'Okay, we don't really understand this. We don't relate to this ... and now as hip-hop has evolved and grown up, our parents are expecting hip-hop to be perfect and to be right."
On Part I of the show, Dr. Robin Smith, a regular Oprah show contributor, says the Imus controversy exposed "a hole in the soul of this country":
"Don Imus—he's a symbol. He's a symbol of how sick we are. He's a symbol of the self-hatred, not just in African-Americans, but in white America."
She says that racism and sexism is like having garbage for dinner everyday:
"At first it tastes awful, it stinks, it makes you sick .... but when you have it long enough, and I serve it to you well enough and sometimes even dress it up with pretty plates and fine linen, it begins to trick your mind and your spirit and make you think that, that which is toxic and poison actually starts to taste okay."
In April, the Hip Hop Summit Action network offered recommendations to the recording and broacast industries. Among them were that the industries voluntarily remove/delete/bleep the words "bitch", "ho" and "n*gger"; the formation of a music industry coalition on broadcast standards that would recommend lyrical and visual standards; and that the recording industry establish a mentoring program and forums to begin dialogue among hip hop fans, artists and industry leaders to promote better understanding and change.
Picture: Oprah.com