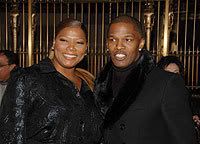 Jamie Foxx and Queen Latifah have partnered with NBA Cares to promote HIV testing in the U.S. and abroad to coincide with National HIV Testing Day on June 27.
Public service announcements (PSAs) on television and radio will begin airing on Game 5 of the NBA finals. Doug E. Fresh provided the original music for the ads.
The PSAs aim to raise awareness about the importance of HIV testing and direct U.S. viewers to
http://www.testing411.org/
, a comprehensive online resource developed especially for the campaign that includes basic information about HIV and testing options. The site also includes easy access to information about local HIV testing centers by zip code provided by the U.S. Centers for Disease Control and Prevention (CDC). This unique campaign has been developed by the National Basketball Association (NBA), HBO, the Global Business Coalition on HIV/AIDS, Tuberculosis and Malaria (GBC), and the Kaiser Family Foundation.
The PSAs will be shown in arenas during NBA games throughout the 2007-2008 regular season. MTV and BET have also committed to airing the PSAs in the U.S. as part of their longstanding public education partnerships, thinkHIV and Rap-It-Up respectively.
Source
This isn't the first time that Jamie Foxx and Queen Latifah have worked together on a project that aims to increase awareness of HIV and AIDS. They co-produced the HBO movie Life Support, which depicted the true story of Ana, a former drug addict who turned her life around to help others living with HIV and AIDS. Queen Latifah played the role in Ana in the movie.