A Washington Post article,
Regrets of A High School Dropout
, tells the story of 19 year old Larue Campbell, who dropped out of high school last spring. Now living with his aunt in Prince George's County, Maryland, most of his days consists of sleeping late, watching TV or searching the want ads. He's currently studying for the GED exam. The article cites that in D.C., 51 percent of black males dropped out of school in 2003-04 school year, compared with 5 percent of white males.
Larue shared that his troubles began in his sophomore year around the time he moved with his aunt and began skipping school. He says about skipping school: "It was like it wasn't a big deal to anybody, so it wasn't a big deal to me .... because there were no consequences, quitting was easy."
He also adds:
"Just because you drop out doesn't mean you don't have plans, it doesn't mean
you don't have a future."
Read the entire article
here.
Larue's story highlights a troubling trend in the African American community, that 56 percent of black children live in single family households, often without a father present. Both of Larue's parents dropped out of high school and his father had spent time in jail.
Phillip Jackson, executive director of the Chicago-based Black Star Project, says that "father absence in the African American communities, across America, has hit those communities with the force of 100 hurricane Katrinas....it is literally decimating our communities and we have no adequate response to it."
In 2006, the National Fatherhood Initiative in Gaithersburg, Maryland commissioned the University of Texas at Austin to conduct a survey of 701 fathers called "Pop's Culture: A National Survey of Dads' Attitudes on Fathering." The survey found that 91 percent agreed there is a father-absence crisis in America.
Fathers who were not married that took the survey cited a lack of cooperation from mothers as the chief obstacle to being a good father, followed by work responsibilities, financial problems and treatment of fathers by the courts.
The survey also cited that media and popular culture were impediments to being a good father.
Source
In the media world, Burrell Communications, a leading multicultural communications agency is challenging the stereotype of the absent African American father by launching a national awareness campaign that honors African-American fathers who are active in their children's lives. Entitled "
A Celebration of Black Fathers,
" the initiative showcases vibrant images of fathers and their children in television, radio, cinema and print media. The agency partnered with acclaimed photographer Carol Ross, author of "
POP: A Celebration of Black Fatherhood
," and uses photography from her book for the print and television advertising.
Source
There are many fathers and father figures who define what it means to be a good father. In celebration of Father's Day this Sunday, here are some pix of celebrity fathers and their children:
Jamie Foxx with his daughter Corrine
Jamie has said of his daughter, "to have someone who came from you keep enriching your life, is beautiful."
Russell Simmons and his daughter, Ming Lee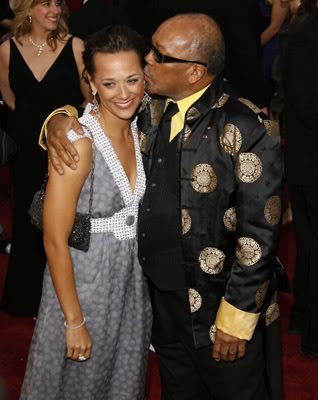 Quincy Jones and daughter Rashida
Lenny Kravitz and daughter Zoe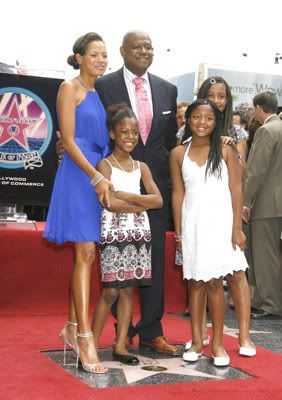 Forest Whitaker and his family
Happy Father's Day!