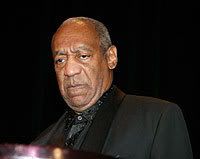 I like using Bill Cosby's quotes because he always seems to bring the message home.
Mr. Cosby spoke these words as he marched on Monday in West Philadelphia with the group
Men United for a Better Philadelphia.
He urged parents and community elders to take a stand against the violence that has plagued the city for the past year. So far in 2007, the city of Philadelphia has averaged more than a murder a day.
Cosby stresses that parental guidance could make youths more open to nonviolent options.
Source
Since we're on the subject of Bill Cosby, let's take a look at some of his memorable quotes about the black community:
About black women:
"Five and six different children — same woman, eight, 10 different husbands
or whatever. Pretty soon you're going to have to have DNA cards so you can
tell who you're making love to."
On poor people:
"The lower economic and lower middle economic people are not holding their end
in this deal. In the neighborhood that most of us grew up in, parenting is
not going on. ... I'm talking about people who cry when their son is
standing there in an orange suit. Where were you when he was 2? Where were
you when he was 12? And where were you when he was 18, and how come you didn't know he had a pistol?"
For the past three years, Mr. Cosby has spoken out passionately on the societal ills facing the African American community. He has hosted
Call Out Sessions
in various cities to encourage personal responsibility and create awareness on issues such as teenage pregnancy, the high school dropout rate, illiteracy and violence. Some have criticized him for airing the community's dirty laundry.
As a continuation of his crusade, Bill Cosby in collaboration with Dr. Alvin F. Poussaint, will write the book
Come On People: On the Path from Victims to Victors
, scheduled for publication this fall.
Come On, People! will provide real-life examples of the problems plaguing communities throughout America and the time-tested solutions that can help turn things around.
"Come on, People!" will challenge readers to:-- take their neighborhoods back-- become purposeful and effective parents-- get actively engaged in shaping the lives of their children;-- take care of their physical and emotional health-- encourage their families toward higher education and-- think entrepreneurially about employment and economic advancement.
Source