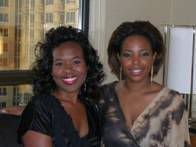 You may remember Kellie Williams from the former ABC show Family Matters, but what you may not know is that she shares her time and talent of acting to enrich the lives of youth through the performing arts in the Washington, D.C. area.
Kellie
(shown in photo on right, with her business partner Shelvee Casey on left)
has established the Kellie Williams Programs (KWP) to provide after school activities for youth ages 12 to 18. Growing up in Prince George's County, Maryland, Kellie took acting classes at DC Black Rep and the Howard University Children's Theatre. When she returned to the area, those establishments were closed, which inspired her to create KWP.
Earlier this year in an interview with the Washington Afro-American newspaper, Kellie shared how her upbringing instilled a sense of responsibility and giving back to the community:
"I have parents and people in my family who just love children...I grew up in a family where [it was] understood that you have a responsibility to other people."

"My parents had to work too, but I had aunts, friends, neighbors and a community of people who were willing to take interest and care of me, and that is what we [KWP Programs] want to do."
KWP will be sponsoring a golf tournament fundraiser on September 22, 2007 and is seeking players and sponsors.