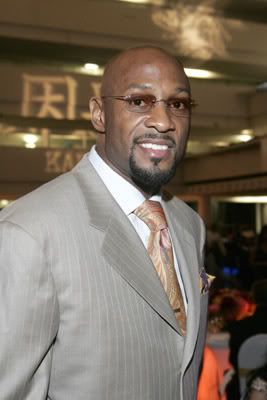 Did you know that former NBA star Alonzo Mourning has said that if he wasn't a professional basketball player, he would have been a teacher or a counselor? Alonzo may have chosen another career path, but his desire to help others and give back to the community is evident in the establishment of his foundation, Alonzo Mourning Charities (AMC).
AMC is a non-profit foundation founded by Alonzo that provides support and services to youth of promise. Since its inception in 1997, the foundation has raised over 6 million dollars for various charities that aid in the development of youth and families living in at risk situations. Alonzo, who was in the foster care system as a child, was inspired to create the foundation from his wife, Tracy, who has a passion for helping others.
Organizations supported by the foundation are the Overtown Youth Center in Miami, that provides recreational activities for kids in inner-city Miami and the
Honey Shine Mentoring Program
(his wife Tracy's organization), which pairs young women in at-risk situations with mentors.
AMC's largest philanthropic event,
Zo's Summer Groove
, supports the foundation's efforts and has become a summer staple in South Florida for the past 10 years. This year, the fundraiser is being held
July 11-15
in Miami. Over 2,000 youth residing in the surrounding area will be invited to participate in basketball clinics where they will practice with NBA players and learn the importance of discipline and persistence off the court.
The event will also feature numerous activities throughout the weekend for the public to participate and help raise money to make a difference in the lives of underserved youth:
Thursday, July 12, 9 a.m. to 2 p.m.
City Furniture ZSG Golf Classic - Participants will tee-off and enjoy one of the most popular courses in South Florida alongside Alonzo and a host of friends from the world of sports and entertainment at the Doral Golf Resort and Spa.
Friday, July 13, 8 p.m.
Heineken ZSG Comedy Show/Concert at Hard Rock Live - Alonzo will host comedians Mike Epps, Gary Owen, Marvin Dixon and Benji Brown at one of the most anticipated events of the ZSG line-up. Tickets are available at
http://www.zsg.com
.
Saturday, July 14, 7 p.m. to 12 a.m.
Publix ZSG Benefit Dinner – Held at the Intercontinental Hotel Miami, guests, including local celebrities, sports stars and some of the hottest entertainers around, will enjoy a cocktail reception, musical entertainment, a silent and live auction featuring exotic trips, one-of-a kind sports memorabilia, and celebrity experiences.
Sunday, July 15, 1 p.m. to 6 p.m.
Volkswagen ZSG Block Party – Located at American Airlines Arena, this free, fun-driven community event features music, delicious food, lots of giveaways, fun rides, and entertainment from local and national performers outside American Airlines Arena, just before the ZSG All-Star Basketball Game. Kids can meet and greet Nick Jr.'s Go, Diego Go! and his animal friends, and get up close and personal with creatures from the tropical rainforest.
July 15, 6:30 p.m. to 9 p.m.
Carnival Cruise Lines ZSG All-Star Basketball Game – Immediately following the Block Party at American Airlines Arena, some of the league's best and most exciting basketball stars will play some great ball during a fun and high flying game featuring giveaways, contests and entertaining performances. Tickets are available at
http://www.zsg.com
.
All additional information on the event, including tickets, can be found at
http://www.zsg.com/
.