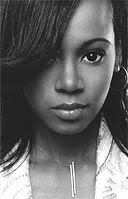 The Lisa "Left Eye" Lopes Foundation will host a celebrity auction and fundraiser this Saturday, August 18th at the 40/40 Club in New York City.
All proceeds from the event will benefit the newly built Lisa Lopes Orphanage in Honduras. The Hogar de Amor Children's Home (Home of Love) and Lisa Lopes Rural School and Orphanage will provide a healthy home, dental clinic, and free healthcare for twenty abandoned children, ages 2-15.


Free on-site schooling will be available for children in the community, who have no school to attend. Many of the children living in the orphanage have lost their parents to AIDS and/or have been victims of sexual and physical abuse.


The orphanage grand opening celebration will take place this September at the Quinta Real Hotel in Honduras.
Lopes was a member of the hugely successful pop group TLC and at the time of her death in 2002, was in Honduras bringing to fruition her dream of establishing a non-profit educational and medical center.