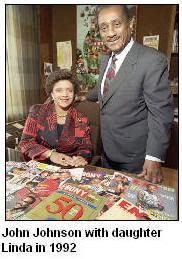 Johnson Publishing Company
(JPC), the world's largest African American owned and operated publishing company, granted 2.5 million dollars to the Annenberg School for Communication at the University of Southern California to establish the
Johnson Communication Leadership Center.

The center will feature a new undergraduate scholarship program — the first at the school to focus on the specific interests of the African-American community. Recipients of Johnson Scholarships will be selected for the program based on academic excellence, demonstrated leadership, and a strong interest and involvement in issues related to African Americans in the world of journalism and communications.
In addition to scholarships, students will be exposed to leaders who influence the fields of journalism and communication, receive mentorships, participate in research projects and scholarly activities such as internships, including the opportunity to work for leading media entities.
Linda Johnson Rice, who is JPC CEO and President, as well as an USC trustee and alumna, stated:


"Johnson Publishing Company is excited to fund this new initiative at USC. The scholarships as well as the extensive exposure to mentorship, research, and travel are innovative ways to support the African-American perspective in the journalism and communication fields."