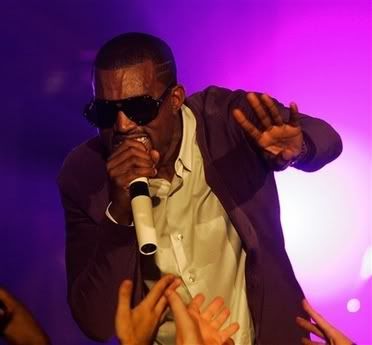 "I still can't grasp that..."
--Kanye West referring to the alarming 50% school drop out rate.

As the world anticipates the release of Kanye West's third album titled Graduation on September 11th, Kanye wants youth to experience an important milestone – their own graduation day.

That's because of a growing epidemic threatening the black community, the staggering 50% school drop out rate among African Americans, as well as Latinos.

This is distressing.
Recent data shows that only about half of the nation's Black and Latino students graduate on time and only 46% of black males graduate from high school.

On Friday, August 24th, the Kanye West Foundation, with title sponsors Ariel Capital Management and Strong American Schools, held its inaugural benefit concert and auction in Chicago. The foundation is a California based non profit, dedicated to combating the severe drop out rate in secondary schools by providing music production programs that motivate students and compel them to stay in school. The foundation partners with schools and community organizations to provide underserved youth access to such programs.
Proceeds from the event will benefit the Kanye West Foundation programs, particularly Loop Dreams, its signature initiative, which aims to create a curriculum that combines core subjects with aspects of hip hop.

Now of course, yours truly attended the inaugural benefit….especially since Kanye is the most searched celebrity on this blog. I attended some of the events, including the concert (Kanye gave an amazing performance!) and here are my highlights:
As I was walking to the press conference, I saw yellow school buses outside of the House of Blues. The buses brought 300 students ages 11-16 for a pre-sound check bash. The students experienced a behind the scenes look at Kanye preparing for his concert.

During the press conference, it was announced that Kanye and Strong American Schools, one of the title sponsors for the benefit, taped public service announcements (PSAs) that will urge the presidential candidates to address America's education crisis. Dr. Donda West, Kanye's mother, will also participate in an upcoming PSA. Marc Lampkin, Executive Director of Strong American Schools, stated that Kanye is a role model and he can't think of a better person to inspire the next generation of young people to finish school.
Kanye and his mother both emphasized that hip hop is a powerful medium to get students excited about education. Incorporating hip hop into the classroom and in curriculums could encourage school systems to create classes on subjects such as hip hop history, music production and music engineering. Dr. West stated "we have to start where the learner is ……..its one thing to say 'stay in school, 'stay in school', but its another when you give youth a curriculum that they're involved in."

I then went to the Microsoft sponsored silent auction lounge for the VIP reception because I wanted to see the items up for bidding. The selection included Chicago Bulls autographed items, a Dwayne Wade autographed jersey, Casio G-shock watches, and of course, a Louis Vuitton carry all (Kanye loves Louis Vuitton). At the reception, John Rogers, Jr., chairman and CEO of Ariel Capital Management, the country's largest African American money management firm and mutual fund company, was honored for his corporate social responsibility.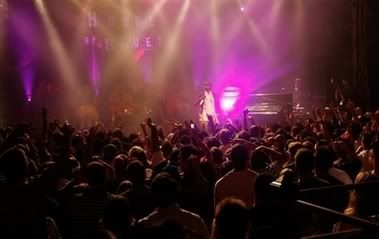 Access Hollywood's Shawn Robinson and actor David Alan Grier served as the emcees for the concert that opened with several Chi- town rappers, including GLC. Kanye gave a spectacular two hour show, performing hits from his previous albums such as
Gold Digger, Jesus Walks
and
Touch the Sky,
as well as songs from his upcoming album, including
I Wonder
and
Champion
. My fave performance was
Big Brother
, a song inspired by Kanye's relationship with fellow rapper Jay-Z. He even stopped his performance to make sure the spotlight on him was just right. Rapper Mos Def joined Kanye on stage for
2 Words
and hit a freestyle. What was evident by looking at concert goers is that Kanye's music appeals to a very diverse audience. I saw just about every nationality represented and ages ranging from early 20s to seniors.
Future plans for the foundation include expanding efforts to Chicago (the city where Kanye grew up), Atlanta (Kanye's place of birth), Washington, D.C. (my hometown!) and New York City.
About Strong American Schools:
Strong American Schools is a Washington, D.C. based non partisan public awareness and action campaign aimed at elevating education to the top of the list of our nation's priorities. Their ED in '08 e-campaign seeks to unite Americans around the crucial mission of improving our public schools across the nation.
Read my previous post on the drop out epidemic
here
.