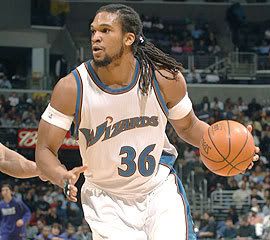 As I was perusing Black Voices, I came across a story on Etan Thomas, a center for the Washington Wizards. I've read about Etan before--specifically about his love for poetry (he published a book of poems titled
More Than an Athlete
). Etan recently gave an interview with
The Starting Five
blog.
When asked about the media's role and how it affects the fan's perception of athletes:
"During a panel discussion at Morehouse after the season, I shared the stage with many columnists, and I addressed this very question... the fact is that negativity sells. Nobody wants to read about an athlete making positive contributions to our community and society as a whole. That doesn't make the top of sports center. When an athlete makes a charitable donation, responds in a crises i.e. Katrina, 911, the catastrophe of inner city schools etc., that is not shown. But let an athlete get arrested, or better yet, accused of something that there has been no conclusive evidence toward, that will be at the top of every sports news outlet across the country. That is the unfortunate reality of the world of sports."
Etan also talked about his activities off the court:
"I just finished speaking at two correctional facilities; D.C. prison and Prince George's [Maryland]Correctional Facility.... I am going on a trip in July to Kenya with Ron Artest, Derek Fisher, Theo Ratliff, and Maurice Evans with a goal to feed a million people. This was spearheaded by former player Kermit Washington."
His views on America's school system:


"When I go to schools I point out the difference between the schools in the suburbs, and the schools in the inner city, and how it is set up for us to fail. The inner city schools are over crowded, teachers are underpaid and frustrated, old out of date books, brand new metal detectors, but old books. And the schools in the suburbs have new computers, 14 kids to a class, with a teacher's aid, air conditioner, new books. How we are put at a disadvantage from the beginning. Then they issue their standardized tests comparing the inner city to the suburbs as if the two were getting the same education, and when the test scores aren't the same, Bush uses that as the reason why we don't need some form of affirmative action in schools. If the school system was equal institutions of higher learning wouldn't need methods of special consideration, but they aren't."
A great interview. Read it
here
.