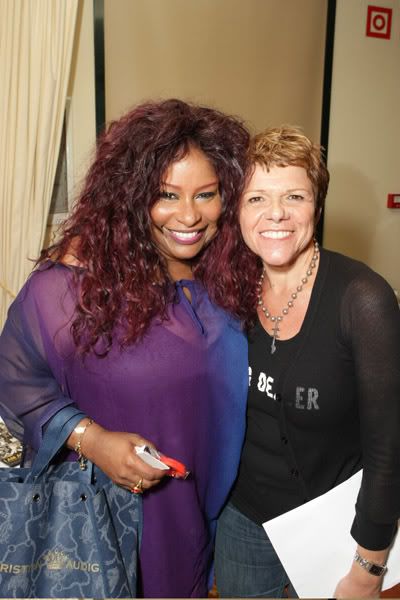 Did you know that Chaka Khan has her own charitable foundation? I learn something new everyday. The legendary singer attended the Playing for Good Philanthropic Summit '07 in Mallorca, Spain this past Saturday representing her foundation, the
Chaka Khan Foundation
. She is pictured above with Leigh Blake of
Keep A Child Alive
.
The Chaka Khan Foundation assists women and children at risk with a particular emphasis on education and autism. The foundation implements and supports early college awareness programs for parents and students and provides the tools needed for them to succeed.
Chaka states on her foundation's website:
"Who says it's ok to leave a child by the wayside?? Who says it's ok to forget about a kid who has dropped out of school?? Who says it's ok to turn a blind eye on a child who is starving from lack of love, low self-esteem and hopelessness? I don't, and nobody else should."
This past February, an initiative of the foundation, Chaka Believes, brought 50 middle school children from Watts and Compton (California) to the Century City investment banking, securities trading and brokerage offices of Bear Stearns to learn about finance, investment and markets. Chris Gardner, an entrepreneur and the inspiration for the movie,
The Pursuit of Happyness
was a special guest. This type of philanthropic activity shows that donating money to a cause isn't the only way to effect change, but exposing youth to successful individuals, learning opportunities outside of the classroom and different career choices is just as impactful.
Chaka performing at the Playing for Good Summit with actor Terrance Howard
Website:
Chaka Khan Foundation
Photos by Wireimage