In recent years, many African American athletes have created foundations to give back to communities in which they were raised and to benefit the cities of their sports teams. Magic Johnson, Alonzo Mourning and Chris Webber are just three current and former athletes that have successfully created foundations, collectively raising millions to benefit their charities. However, a Seattle Times series reports that some athletes have not been as successful, which is chronicled in The Giving Game: How Poor Execution Can Sap High Expectations.
The series takes an in-depth look at charities of athletes with Seattle ties. The reporters state that top athletes create their own charities with the best of intentions - some succeed, but most are hobbled by a lack of focus, know-how and follow-through. They site that a total of 35 athletes with Seattle ties formed their own charity, but most were started by young millionaires with a vague desire to help people but little experience running a nonprofit.
Of the five athletes featured this week in the series, four are African American: Seattle Seahawks Shaun Alexander and Deion Branch and NBA players Ray Allen and Brandon Roy.
Here are some excerpts from the series to date:
Shaun Alexander
Shaun began his foundation in 2000, after donating $121,000 of his own money into it. He then paid $1.8 million to purchase a community center in his hometown of Kentucky promising to renovate and reopen the center. Today the center sits unused and dilapidated. Alexander says of forming his foundation,
"It's been really, brutally, just disgusting. My heart's in the right place, but if you don't have the right structure, it's just brutal."
He said he would do it all over again, just better. He now partners and raises funds for existing charities. Read the entire article
here
.
Ray Allen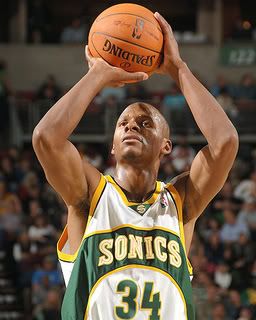 The series tells of Allen's Ray of Hope Foundation, which held a lavish fundraising event in 1998, with the likes of Spike Lee and Stedman Graham - but it failed to cover a $50,000 commitment to a local children's hospital. The article cites that in the past two years, the foundation has lost momentum, spending $21,502 on charitable programs, its smallest total to date. Read the entire article
here
.
The series cites that in practice, these charities generally perform below industry standards, operate inefficiently and often produce more acclaim than impact stating, "Too often, athletes fall into the usual traps -- hiring relatives or friends to run foundations, losing track of operations or drifting out of touch." Daniel Borochoff, president of the American Institute of Philanthropy is cited in the series stating,
"They get a lot of publicity and recognition because of the celebrity of the athlete. There's very little activity. There's very little money, which is a shame."
As I stated earlier, of the five athletes profiled in this series, four are black. The fifth athlete profiled, Jamie Moyer, who isn't black, is highlighted as the athlete that "creates the model." Now don't get me wrong, I'm not trying to start anything here. I wholeheartedly agree that a foundation without a sound infrastructure is doomed to fail regardless of what color you are. Although the Brandon Roy article isn't due to be published until Thursday, I hope it offers a more balanced perspective on African American athletes and the great philanthropic work some do. Comments anyone?
Source: The Seattle Times