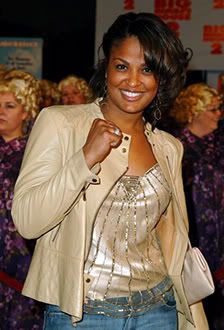 Laila Ali, daughter of legendary boxer Muhammad Ali and a champion of healthy eating and physical activity, has partnered with Uncle Ben's to highlight a new multi-year partnership with the Kids Cafe program of America's Second Harvest - The Nation's Food Bank Network. Over the next four years, Uncle Ben's will donate $1 million to open additional Kids Cafe locations around the country and provide free meals and snacks to low-income children.
To kick-off the partnership, Ali joined associates of Uncle Ben's at the Boys & Girls Club of San Fernando Valley Kids Cafe location near Los Angeles to cook for and serve food to the 50 children who regularly use the facility.
Laila said of this partnership, "When I heard that nearly 12 million children in the United States are hungry or at risk of going hungry, I knew this was a cause that needed attention. Kids Cafe locations not only allow children a chance to get a hot meal, they also are places where they can build friendships and learn about living a healthy lifestyle. It's wonderful that Uncle Ben's has committed to opening more locations to help even more kids."
The first Uncle Ben's Kids Cafe will open this month in Greenville, Mississippi, regarded as the spiritual home of Uncle Ben's. The Greenville Kids Cafe will be the Delta's first child hunger-relief facility and plans to serve an estimated 1,000 children a year.