Remember recess period from elementary school? Once I entered junior high, recess was over. A recent report from the Robert Wood Johnson Foundation has found that recess is declining in schools that primarily educate children from minority and low income families. The report also cites that recess is the single best way to help kids be more physically active, which will definitely help considering the obesity rate in children is increasing.
This week is National Recess Week (September 24-28), which brings attention to this issue. Cartoon Network has announced a major partnership with NBA Cares and Miami Heat star
Dwyane Wade
to help enlist one million volunteer hours to rescue recess across America.
NBA Community Ambassador Bob Lanier (in photo above playing ball with the kids) was on hand in Washington D.C. at Brookland Elementary school for the announcement of National Recess Week.
Wade said,
"I've been extremely fortunate and blessed to work with people who've helped me along the way, so I've made it a priority to give my time and energy back to young people whenever I have the opportunity."
Wade will lead fellow NBA players, legends and WNBA stars in making public school appearances during the school year as volunteer recess monitors. (The kids will love that!) He will also appear in a national on-air spot to promote Rescuing Recess, the award-winning campaign created by Cartoon Network to champion the benefits and importance of daily recess in schools.
"Rescuing Recess is a perfect fit for me to meet with kids and share how being active and healthy is an important part of being a good student
," Wade continued. "
In fact, using recess to blow off steam and to re-energize will actually help them do better with their schoolwork."
For more information on how a school can get involved, visit
http://www.rescuingrecess.com/
to complete the volunteer challenge registration. The school that has the most volunteer hours will receive a single $25,000 cash grant and a special recess rally event.
Source1
Source2
In related news, Dwyane Wade hosted the Young, Fly and Flashy Skating party to benefit his foundation, The Dwyane Wade Foundation, on September 14th in Lynwood, Illinois:
NBA player Antoine Walker and Wade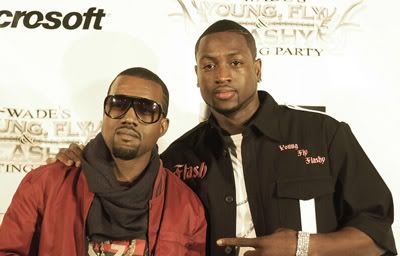 Wade with Kanye West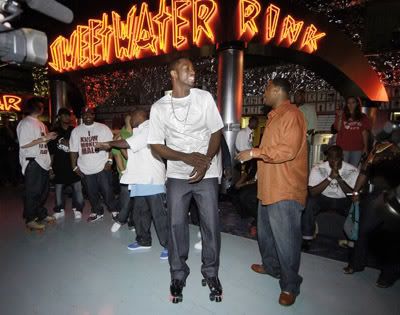 Wade on rollerskates with New York Knicks Quentin Richardson