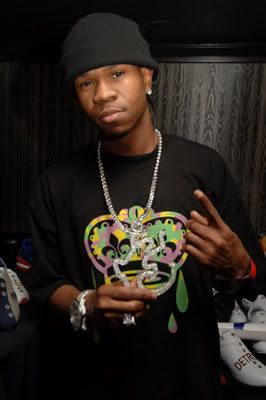 Grammy award winning rapper Chamillionaire is releasing his new album today, Ultimate Victory, without something that all rap albums seem to have -- a parental advisory sticker.
Chamillionaire says watching white fans singing along on the N-word prompted him to eliminate it from the rhymes on his new album.
The Houston rapper, whose platinum 2005 album The Sound of Revenge spawned the Grammy-winning hit Ridin', says he made that decision long before criticism of rap lyrics erupted over CBS Radio shock jock Don Imus' racially tinged insult of the Rutgers University women's basketball team.
His stance drew jeers from rival 50 Cent, who shrugs off complaints about hip-hop's violent and misogynistic content. "Let (Chamillionaire) go sell gospel records, if he's so (expletive) righteous," 50 told Spin magazine in July. But rather than getting into a beef with the rapper, Chamillionaire used the controversy as fodder for the album's first two singles, Hip-Hop Police and The Evening News.
In his new video for Hip Hop Police, Chamillionaire dons makeup to play hip-hop cop Al Sharpless, news anchor Bill O'Wildy (references to critic/activist Al Sharpton and Fox News commentator Bill O'Reilly) and news reporter Cashus Burns. He also appears as himself. The video portrays Sharpless arresting and interrogating Chamillionaire while O'Wildy's newscast details the arrests of other rap stars.
"It's really not about the police but the people who police hip-hop," Chamillionaire says. "It's like loving hip-hop is a crime these days, so I did a Murder Was the Case (the Snoop Dogg hit) type of record to paint the picture."