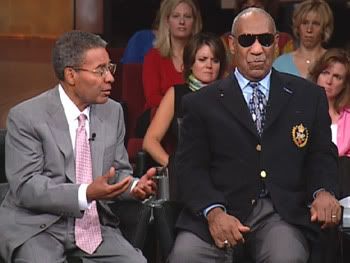 Bill Cosby is appearing on Oprah today to discuss his new book, Come on People: On the Path from Victims to Victors and to talk about the lack of parenting in the Black community. The book explains the causes of the problem and gives parents advice on how to address it.

Here are some highlights of what Cosby had to say:
"It's not what they're doing to us. It's what we're not doing. … Brown vs. the Board of Education—these people who marched and were hit in the face with rocks and punched in the face to get an education, and we've got these knuckleheads walking around who don't want to learn English. I know you all know it, but I just want to get you as angry as you ought to be," he said.
"I never said there's no such thing as systemic or institutional racism. I also never said that we've got some people of our own that happen to be on the side of the racists. I'm saying we've got to dig in and fight. The same way that you and I were protected by our grandparents," Bill says. "We need to see the problem the same way and protect our children."
Dr. Alvin F. Poussaint, co-author of the book who also appears on Oprah today, addresses the lack of fathers present in the home:
"Many of these fathers are not present. They're absent. Many of them are even incarcerated. Many don't have jobs," Dr. Poussaint says. "And a lot of these young men don't even feel that it's important to be a father because many of them grew up in fatherless homes. … The cycle just continues."
According to Dr. Poussaint, studies show that children who have dads who are involved in their lives—whether their parents are together or not—tend to do better than children with no father figure. "But the men don't know that, and we have to get a message out there that it's critical that they're involved with their children," Dr. Poussaint says.
Cosby gives suggestions for parents, stating: "They should look under beds, monitor internet usage, know who their friends are. We have parents who don't know what subjects the children are taking, who don't know when the test is coming, who don't know if they're finished, don't know the grades," he says. "We must know."
Source and photo: Oprah.com