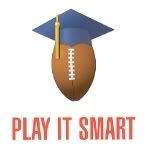 The Play It Smart Program is the National Football Foundation's (NFF) highly successful program for at-risk student-athletes in underserved areas. The program's mission is to help student-athletes take responsibility for their futures through lessons learned on the playing field, in the classroom and in service to others.


Launched in 1998 in four pilot schools, Play It Smart now partners with 140 schools in 82 different cities throughout the country, establishing itself as one of most comprehensive and effective youth development programs in the nation.
The program has shown that sports, when coached in the proper environment, can be used as an effective tool for lifting academic performance.
"There are a lot of mentoring programs where a big- name player goes into a school and talks to kids," said NFF President & CEO Steve Hatchell, "Play It Smart is totally different. Our academic coaches are in there every day of the year. We have proven that Play It Smart is highly successful, but we know that are a 1,000 schools that are in need. We feel like we have only scratched the surface."
How the program works: Play It Smart trains "academic coaches" to work with high school football teams during the entire school year, taking the lessons learned on the field and applying them in the classroom and the community. Play It Smart builds on the positive peer influences of team sports and a participant's interest in football. The program's academic coaches are trained in a set of guiding principles and a variety of tactics, which are designed to make academic achievement the norm.

Play It Smart has produced phenomenal results over the past ten years," said Len Stachitas, Executive Director of Play It Smart and NFF Vice-President. Some are:
95% of seniors graduating high school, compared to 85% of their peers;
80% of seniors enrolling in college compared to 62% of their peers;
Participants taking the SAT or ACT at twice the rate of their peers; and
Participants completing more than 67,000 hours of community service annually
Below are just a few of the many cities and schools that participate in this program:
CALIFORNIA: Crenshaw High School, Los Angeles
GEORGIA: Booker T. Washington High School, Atlanta
LOUISIANA: McDonogh 35 High School, New Orleans
MARYLAND: Patterson Senior High School, Baltimore
NEW YORK: Jamaica High School, Queens
NORTH CAROLINA: West Meckenburg High School, Charlotte
WASHINGTON, D.C. : Anacostia Senior High School, Washington

George, a student from Richmond, VA said about participating in the program: "Not only kept me from dropping out of school but taught me how to enjoy school better."
Want to locate schools participating in your area? Visit the website
here
. Please support this program in your community.

{Thanks to Hillary and Philip at the NFF}