I'm sure you know of Grant Hill the NBA player, but do you know of Grant Hill the philanthropist? The art collector?
Michael Tillery, a sportswriter for
The Starting Five
blog, recently interviewed Grant, discussing his philanthropy, his family and basketball. Michael says of the Phoenix Suns player:
"He was one of the first to be proclaimed the next Jordan and had the classiness and ambassador like presence of one Julius Erving. Grant Hill was the truth before this generation's definition of truth ever existed. His African American art has been on tour to give those not accustomed an inspiring renaissance of cultural thought. Grant and his R&B songstress wife Tamia are family first, and committed to giving back to raise up those who live by means less amid socially distorting life distress. Grant is a winner. This cannot ever be questioned."
Michael Tillery: What prompts you to give so much back to so many organizations and not really receive well-deserved attention?
Grant Hill:
I understand to a degree, to whom much is given, much is expected. We as athletes–celebrities and people that have financial security–are in positions where we can help. I think all of us…no matter who you are or where you are from…that achieve a certain level of success, can bring people along the way. My mindset is to try to help. It is as simple as that. Whether that is financial contributions, giving your name or actually getting out there, rolling up your sleeves and doing something for someone for a worthy cause, then that is important. Not to get deep or philosophical or anything like that, it is just how I am. My wife Tamia feels the same way and also does what she can to help in any way possible. We both have our organizations that we feel adamant supporting. It is good to be in a situation to be able to make a difference. Sometimes it is a big difference, sometimes it is on a smaller scale, but it is a difference nonetheless.
Michael: It is known Grant that you do not speak of yourself in a flattering manner. You and your wife do so much for the community. How many organizations are the two of you involved in?
Grant:
I could not really tell you. If you look at a bio, you will see things that we have done over the years. You may read about something, someone may call or write a letter. You might have a friend and we might make an appearance. We might volunteer or give a contribution. You may do that for a year and move on to something else. There are also organizations that we have been supporting through the years. I do not know off the top of my head. I know what we are involved in now, but there is not a criteria, or game plan or goal that we want to do this or that. It is kind of whatever we are feeling or whatever we hear about. Whatever is important to us at that time, we try to do what we can do. What I am really trying to say is that it is no rhyme or reason. We do not say that we want to give to x amount of community service per year or give a certain amount of capital annually. It really rather fluctuates from year to year.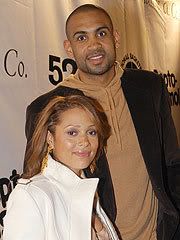 Michael also asked Grant about his extensive African American art collection. Inspired by his parents' art collection, Hill began collecting art in 1995. His collection was featured as an exhibit in various cities, titled, Something All Our Own. Hill said in a previous interview about the tour, "
This exhibition tour is a unique vehicle that will both educate the general public and inspire our youth."
Michael: Is your collection of African American art still on exhibition?
Grant:
No, it is back. Most of it is in storage. We may in the future–as we continue to add more pieces–have something go out in the future on tour. It was a great opportunity to bring people out to museums that would not normally go. It was good to expose all young people, but more specifically kids in the inner-city schools come through and also take field trips to see the art exhibited. It is important that they see more than great athletes and great entertainers. It is important that they see artists of color exhibit quality art at quality museums. It is not just an athletic thing. That was really important to me and the feedback was great.
Read this entire interview at
The Starting Five
blog.