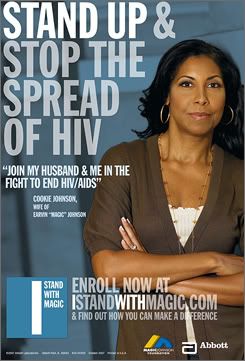 Cookie Johnson
, the wife of L.A. Lakers basketball legend
Magic Johnson
, is no longer remaining silent about the impact of HIV/AIDS on her family and the black community. In an exclusive interview with USA Today, she says:
"I don't like getting out in front of people, period, but when I heard that HIV rates among African-American women were 20 times those of Caucasian women, I felt I really needed to get out and speak. Maybe they could use me as an example of someone who lives with someone who has the disease. Maybe they'll listen to what I say, and maybe that will save some lives."
She is taking an active role in her husband's
I Stand With Magic
campaign, which aims to end black HIV/AIDS. They hope to cut the AIDS rate by 50% in the black community.
On learning about her husband's diagnosis:
"Of course, I was devastated and scared, all of the above. It was like a death sentence back then. I have a deep faith in God, and reached down to those roots, and that's what carried me on...
My mission is to go out and speak to over 1,000 women across the country and empower them to get tested. Early detection saves lives."
Read on
..
Photo: USAT