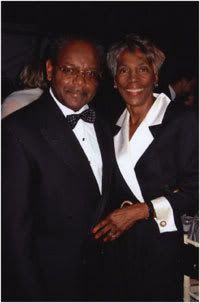 In 2002, the Baltimore Public School system received its largest donation ever - $5 million dollars. This donation did not come from a large corporation, but from Eddie and Sylvia Brown (in photo at left), who are prominent African American philanthropists.

Their donation created the Turning The Corner Achievement Program in two of Baltimore's poorest neighborhoods. The five-year program provides academic help, health and social and employment services to African American youth and their parents.

The story of Eddie C. Brown began in 1940 in Apopka, Florida; the son of an unwed teen mother who had him at the age of 13. He was raised by his grandparents who were domestic workers.
His grandmother would take him to the city to show him businessmen in suits – telling him that school and a good education is the key to success. While in high school, teachers told him to take vocational courses even though he had excellent grades. He fought to take college preparatory classes, eventually graduating at the age of 16 as one of the top students in his class. He was the first in his family to finish high school. And thus began Brown's quest to attend college.
He attended Howard University and graduated with a degree in electrical engineering. While at Howard, he met his future wife, Sylvia Thurston. He then enrolled in graduate school, attending New York University and earned a MBA from Indiana University. His career switch from engineering to finance was an easy transition. He said of changing careers: "Engineering was very significant in my career preparation. What I gained in terms of analytical skills and rational thinking translates well into the investment world.
Brown worked with T. Rowe Price for ten years, eventually becoming a vice president before launching his own asset management firm, Brown Capital Management. He started the company out of his Baltimore home office in 1983, building a national reputation because of his ability to pick stocks and for his company philosophy--growth at a reasonable price.
Today, his firm has managed more than $6 billion in assets.
In 1994, Brown established the Eddie C. and C. Sylvia Brown Family Foundation. The couple's daughters, Tonya and Jennifer, serve as president and vice president. Brown began the foundation with $300,000; his goal was to build it to seven figures in a few years. He told Jet, "We have been extremely blessed. And we truly believe that those who have been blessed should be a blessing to someone."
Source: Answers.com