Oh yes – you knew it was coming ......
The
BlackGivesBack Top Ten Black Celebrity Philanthropists of 2007.
Black celebs got their charity on this year. From donating their own funds, to bringing awareness to social ills and hosting fundraisers, they put their money and time into bettering Black America.
Some may question if a celebrity's involvement in charity work is genuine or just done for good publicity, but if they didn't give back we'd have something to say about that wouldn't we?
To get things started, let me tell you who will not be included on this list: No disrespect to Oprah Winfrey, Tiger Woods, Magic Johnson and Bill Cosby. These celebs are well-known for their philanthropy and commitment to social issues. However, for this list I want to highlight those whose giving is not as publicized or well known.
How was this list compiled?
Does the celebrity have their own charitable foundation?
Has the celebrity supported other foundations and organizations?
Has the celebrity brought significant awareness to a cause or an issue?
Does the celebrity serve as a board member for other foundations?
Has the celebrity received honors or awards this year for their charitable and/or community work?
The top ten list includes actors, a former NBA player, a Grammy-award winning hip hop artist and a record executive among others. In addition, five have published books this year and nine of the ten have their own foundations. Starting today, the countdown will begin!! Let's start things off with #10:

Chris Tucker, Helping to Bring Attention to African Poverty and Hunger
For a few years, we didn't see much of Chris Tucker. That's because he was busy giving back, traveling to Africa, and establishing a foundation in his name, the
Chris Tucker Foundation
.
Earlier this year in a Washington Post article, he tells us why it took six years to film the sequel to Rush Hour 2:
"It took a while because I was doing things around the world that were really important to me," he said via phone from Atlanta, his hometown. "I wasn't controlled by making movies and getting as much money as I could. I was just living a little bit . . . going to villages with no clean water, going to Ethiopia with Bono
."
Chris first visited Africa in 2001 to promote Rush Hour 2. He was shocked at what he witnessed: children living in poverty with no clean drinking water. He then returned the following year with U2 singer Bono and MTV to film the Diary of Bono and Chris Tucker: Aiding Africa. Chris established the Chris Tucker Foundation in 2005 in an effort to bring clean water to Ghana and to fight AIDS in Africa.
During his acting hiatus, Chris was on the scene. I'm not talking about the party scene, but on the charity scene, supporting fellow celebs with their charitable events this year:
Chris with Kenneth 'Babyface' Edmonds and Gabrielle Union at Tiger Woods' Tiger Jam benefit.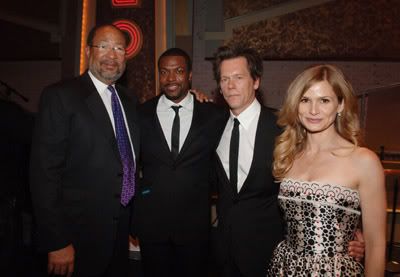 Chris with Richard Parsons, Kevin Bacon and Kyra Sedgwick at the Apollo Theater Foundation's Spring Benefit where he served as the master of ceremonies.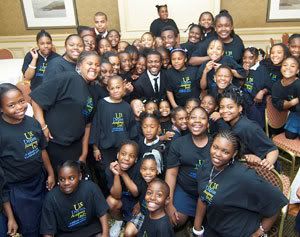 Chris visited students from the U.S. Dream Academy in Baltimore . He served as the master of ceremonies at their Power of A Dream gala in May.
Photo: NEA.org
In June of this year, Chris was honored for his work in Africa at the U.S. Doctors for Africa Annual Gala Benefit.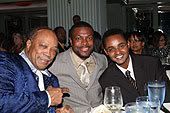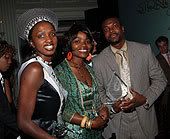 Chris' foundation has partnered with US Doctors for Africa to work with hospitals in Africa. Chris, thank you for efforts to aid children around the world!
Chris Tucker Foundation website (not live yet):
http://www.christuckerfoundation.org/