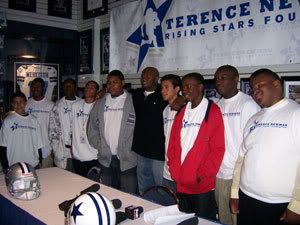 Former Kansas State standout and Dallas Cowboys cornerback Terence Newman has launched his new charitable foundation, the Terence Newman Rising Stars Foundation, which benefits and supports the most promising young student-athletes in the Dallas Independent School District.
Last Friday, he made a $10,000 donation to the National Football Foundation's highly acclaimed
Play It Smart
program, which serves at-risk student athletes in under served communities. It is one of the most comprehensive and effective youth development programs in the nation.
Newman's foundation will select 10 ninth-grade football players each year from the six Dallas Play It Smart high schools. The selections are made from a pool of nominees made by the counselors and coaches at those schools, and they are nominated based on their outstanding character, good citizenship, leadership ability and commitment to excellence in the classroom and on the field.

Once they become "Rising Stars," the selected kids take part in a full slate of program activities, which include academic support through the program's relationship with Play It Smart, as well as regular mentoring and special events with Newman himself. These events include outings to Cowboys games, community service activities and other surprise opportunities.

If the program's participants maintain prescribed standards of character and grade-point average throughout their high school years, Newman will reward each of them with a minimum $5,000 college scholarship upon their graduation.
At the foundation's launch in November, Terence helped the new Rising Stars pick out gifts for their family members and purchased them for the kids. He also gave each Rising Star a ticket to the Cowboys' home finale on Dec. 16 against the Philadelphia Eagles.

"I wanted to give the kids that have the potential to become leaders and positive examples for this community an opportunity to reach that potential," Newman said. "All too often, you hear about the things that are wrong in schools and in sports. I thought it was time to reward the kids that do things the right way and expose them to opportunities they may not otherwise get because they are committed to bettering themselves."
Visit Newman's
website
for more information.
Source: The National Football Foundation & Dallas Cowboys.com
Photo: TerenceNewman41.com