Don Cheadle, A Champion For Darfur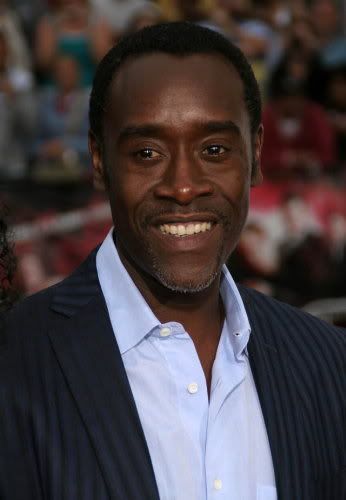 In 2004, a Texas congressman contacted actor
Don Cheadle
after seeing his movie Hotel Rwanda, to invite him on a fact-finding trip to
Darfur
. In 2005, he took the congressman's offer and he's been a changed man ever since.
Here's a brief background of the Darfur crisis [CNN]:
The Darfur crisis began in February 2003 when black Sudanese rebels attacked government property, accusing the government of neglecting Darfur in favor of the country's Arab population in northern Sudan.
The government is accused of arming the pro-government Arab Janjaweed militia, whose members have raped, killed and tortured Darfur civilians.
The United Nations calls this the worst humanitarian crisis in the world and estimates that more than 200,000 people have been killed and 2.5 million displaced.
In interviews earlier this year, Don shared that since his 2005 trip,
"it was difficult to come back to my comfortable life and take stock in all the privileges ... and do nothing."
He also shared in an interview this year with the Orlando Sentinel:
" I realized I could do a lot more, we all could do a lot more, than sit at home and wring our hands..I made sure that I did. I asked that same question anybody would, which is 'What can I do?' "
In May, Cheadle along with humanitarian John Prendergast published the book
Not On Our Watch: The Mission to End Genocide in Darfur and Beyond.
The book details what they saw while in Darfur and tells how people can take action and get involved.
Don Cheadle with

John Prendergast in Darfur
This year, Don starred in the movies
Talk To Me
, a biographical story of Petey Greene, a D.C. radio legend and Ocean's Thirteen. It was the Ocean's Thirteen premiere that served as a launch for his foundation with the movie's co-stars,
Not On Our Watch
, which aims to raise money to raise awareness of the Darfur crisis.
Don graced one of the covers of Vanity Fair's Africa issue this year and he has co-produced, appears in and narrates the documentary
Darfur Now!,
which opened in much of the country in November. For more information and to view the trailer, go to
www.myspace.com/darfurnow
.
The book's co-author John Prendergast says:
"Because of Don, thousands and thousands of people who otherwise would not have known about Darfur are now educated and active. That's quite a legacy."
Website:
http://www.notonourwatchproject.org/
Sources: CNN, Orlando Sentinel
Photo credit: Orlando Sentinel