Alonzo Mourning & Tracy Wilson-Mourning
Enriching the Lives of Miami's Children
Miami Heat player
Alonzo Mourning
along with his wife Tracy have been philanthropic staples in Miami for the past ten years. This past summer, the couple held their 10th annual
Zo's Summer Groove
, an annual event which raises money for their foundation,
Alonzo Mourning Charities
(AMC). The foundation has raised more than $6 million dollars for various organizations that aid in the development of at risk children.
Earlier this year, Alonzo shared why investing in our youth is important to him:
"We continue to read about and witness the mounting evidence of the consequences our youth face when growing up without a safe and supportive place to go in communities that don't offer productive and enriching activities to support their dreams. Investing in our youth is a personal and community-centered commitment."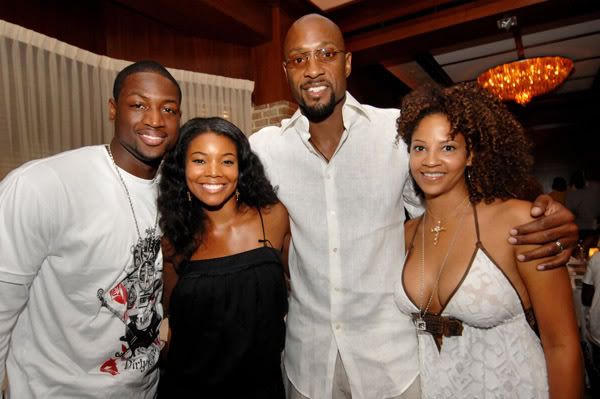 July 2007: NBA star Dwayne Wade, Gabrielle Union, Alonzo & Tracy at Zo's Summer Groove
No doubt that Alonzo's early experience in the foster care system has influenced his desire to give back. In October, Alonzo was honored with the Angels in Adoption award from the Congressional Coalition on Adoption Institute, which recognizes those that enrich the lives of foster and orphaned children. Alonzo and Tracy were also recognized last month with the 2007 Champion for Children Award from the Children's Trust of Miami. The award recognizes dedicated child advocates in the Miami-Dade County community.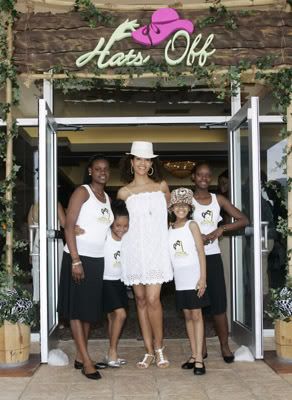 Other charity events the couple held this year were the AMC King Pin Classic and Zo's Million Dollar Shoot Out. They are avid supporters of their peers philanthropic efforts, among them Tiger Woods and Ludacris. Tracy Mourning also runs Honey Shine, an initiative of AMC that provides mentoring for young girls in the Miami area. (In photo at right: Tracy with the girls of Honey Shine at their Hats Off luncheon fundraiser in April.)
In addition to raising funds for his foundation, Alonzo was instrumental in the opening of the Overtown Youth Center, which helps to enrich students through educational and recreational programs. In 2003, Alonzo underwent a successful kidney transplant that inspired him to create Zo's Fund for Life to raise money for kidney research, education and testing.
Lastly, Alonzo and Tracy know that the legacy of giving begins at home. Their 11- year old son Trey helped to distribute 400 Thanksgiving turkey dinners last month to needy families in Miami.
His son expressed that it was great helping his father do good deeds:
''It feels good. I always wanted to follow in his footsteps. When I get older I want to continue to help out in the charities. Its fun helping him out.''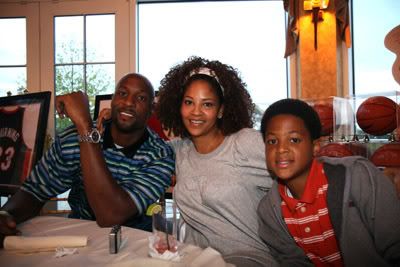 August 2007: The family at Zo's Million Dollar Shoot Out
Sources: NBA.com, Miami Herald.com
Stay Tuned: Next week the 2007 Top Ten Black Celebrity Philanthropist list continues with #7 through #1!