Hill Harper, A Role Model for Black Youth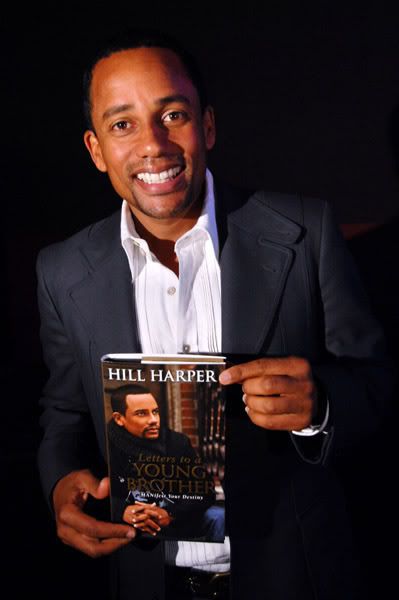 Congratulations to
Hill Harper
, who is the number one black celebrity philanthropist on BlackGivesBack's inaugural 2007 list, the Top Ten Black Celebrity Philanthropists of 2007.
This is a well-deserved honor as Hill has spent much of this year inspiring our young black men to be all that they can be. From the success of his debut book,
Letters To A Young Brother
, Hill has traveled the country this year speaking at colleges, universities and even prisons – all in an effort to empower our youth.
"I want young men to have knowledge of the things that can bring them true empowerment; they don't need 20-inch rims or platinum Rolexes to be magnificent. We're finding self-esteem and self-worth problems with our young men."
The book provides encouragement and words of hope for boys, especially those who are lacking positive role models. To some it may seem that many individuals who advocate for youth at-risk come from similar environments. But Hill's background is anything but. He was born in Iowa to a psychiatrist father and a mother who was one the first practicing anesthesiologists in the United States.
Hill began acting at the age of 7 and later enrolled at Brown University, graduating magna cum laude. He then enrolled in law school at Harvard University where he earned his J.D. and a master's degree in Public Administration from the Kennedy School of Government at Harvard. During his years there, he continued acting, becoming a full-time member of Boston's Black Folks Theater Company, one of the oldest and most acclaimed African-American theater troupes in the country.
He broke into professional acting in the early '90s, appearing in films such as Spike Lee's
Get On The Bus
and
He Got Game
. His best known role is Dr. Sheldon Hawkes on the hit television series CSI:NY.
This year, Hill appeared on another television show. The Oprah Show. He received letters from juvenile inmates who were inspired by his words. Hill met with 29 of the youth prisoners, all 17 years of age and younger. First he held a group discussion and then met with each individually. One 16 year-old inmate shared about the impact of reading his book :
"The minute I read the book, I looked at myself differently in, like, many ways,"
he says.
While on the show, Hill stressed the importance of promoting education and mentoring as an effective way to save today's youth.
Hill has received many awards for his accomplishments. He was honored by Martell Noblige at Discover Noblige, a celebration of charitable giving. He was honored at the event's launch in Los Angeles and was recognized at each respective city the tour visited as the program's anchor. He also received the Usher Raymond Altruism Award at the Trumpet Awards ceremony for his accomplishments with his
MANifest Your Destiny Foundation
.
What's important to note is that Hill shows you can make a difference without opening your wallet. He is a strong advocate for mentoring, stating:
"Mentoring is the key. All data suggests that across income, across race, that for a young man, if he has a positive male role model in his life, his chances for success and educational achievement far outweigh those that don't."
Hill also says it's time to rethink the way we talk to children about their education.
"We always tell kids, 'Go to school, go to school, go to school,' but we never tell them why," he says. "The answer is you talk about building a foundation. … These young people are never taught about journey. They're never taught about going from here to there and where education fits in that piece of the journey."
In the following YouTube video, he speaks on this issue. The short profile was taped during his book tour. He shares how he selects movie roles and he mentions that he's had arguments with Sean 'Diddy' Combs on why he hasn't shared his journey - the fact that Combs didn't go from the street corner to becoming a music mogul, but that he attended college and worked as an unpaid intern to become successful.
At the Trumpet Awards, Hill stated during his acceptance speech:
"One of our goals down the line is to build a retreat center so that the youth can go from the inner city into a big open place. So I'd like to build the institution and create learning tools like books, games, archives and other things that will be there long after I'm gone."
Next week: Honorable Mentions for 2007 and Celebrity Philanthropists to Watch in 2008!
Sources and Photo: Wikipedia, Oprah.com, Trumpet Awards