Victoria Rowell, An Advocate for Foster Children
You may best remember actress
Victoria Rowell
as the character Drucilla Winters on CBS's long running #1 soap opera, the Young and Restless. In this role which spanned 14 years, the soap turned down Victoria's offer to write for the show. This turned out to be a blessing in disguise because it was then that she began to write her best selling memoir,
The Women Who Raised Me.
Victoria spent the first 18 years of her life in the foster care system. Her memoir tells the story of many remarkable women - among them Bertha, Agatha, Esther, Linda, Rosa and Sylvia, who raised and nurtured her when her mother could not. These women made her the actress, mother and humanitarian she is today. During the years Victoria was in foster care, her mother was in and out of mental institutions for her schizophrenia and did not see her daughter until 7 years later. At the young age of eight, Rowell was offered a scholarship from the Ford Foundation to study ballet at the Cambridge School of Ballet in Massachusetts. She transitioned to acting in her 20's after years of modeling and professional dancing.
In 1990, she founded
Rowell Foster Children's Positive Plan
, a foundation that enriches the lives of foster children through artistic and athletic expression. Through her foundation, memoir and public speaking engagements across the country, she has become a passionate champion for foster children like herself. She stated:
"Growing up a foster child, little did I dream that someday I would have my own nonprofit organization dedicated to helping foster children."
December 16: Victoria Rowell along with Kenny and Chante Lattimore and her children at the foundation's holiday party for foster families and their children.
In May, Victoria's foundation hosted the annual Tea at High Noon event, which honored actress Angela Bassett: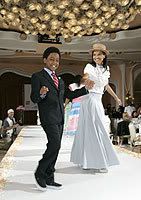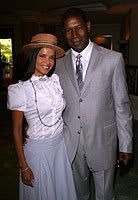 In addition to advocating for foster children, Victoria heightened awareness of certain health issues within the African American community. Today, an estimated 40% ofAfrican-American women in the U.S. over age 50 have low bone mass, where bones become increasingly brittle and painful. She partnered with LACTAID(R) Milk to educate lactose intolerant African-Americans about the importance of calcium and Vitamin D.
During the year, Victoria traveled to colleges, universities and conferences, such as the Congressional Black Caucus and the National Center for Black Philanthropy's annual conference in June.
Victoria states on her website:
"I continue my advocacy efforts to change perceptions and bring national attention to the plight of the over 500,000 foster children in this country, many of whom have significant educational and emotional needs, and who have suffered either neglect or physical and emotional trauma. Foster children are good kids. With guidance and instruction, they will be prepared to become self-sufficient, successful adults."
Related Post:
Victoria Rowell & Friends Harlem Hospital Benefit
Sources: PRNewswire, Wikipedia, Website