Last month, BlackGivesBack featured
Katie Rost
, a philanthropist originally from the Washington, D.C. area, who through her family's Ronald F. Rost Foundation, raises funds for families who want to enroll their children in recreational and cultural programs.
Katie ran the ING Miami Half Marathon on January 27th to raise funds in support of Washington, D.C. youth programs. Read below to see how Katie did!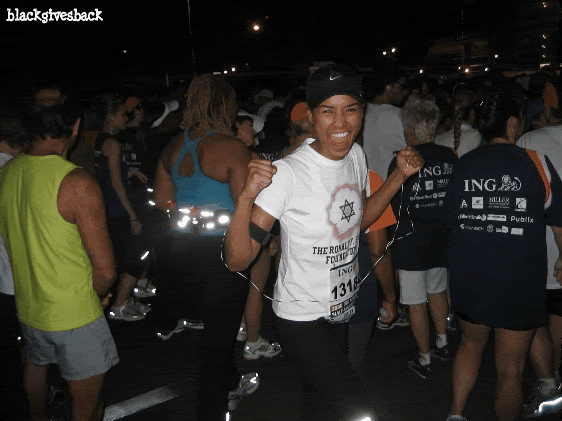 From Katie:
"It is with deep pleasure for me to share with you that I have completed my run at the ING Miami Half Marathon in support of the Boys and Girls Clubs of Greater Washington and WolfTrap Children's Theatre-In-The-Woods. To date, The Ronald F. Rost Foundation has raised $4100 for these two awesome youth enrichment organizations. The ING Miami Marathon started at 6:15 am, in the dark, but under perfect weather conditions. With thousands of enthusiastic athletes all around me, and my father's spirit pulsing through my veins, I finished the marathon in 02:08:00. My pace was 9:57 a mile.
The marathon was part of a personal wellness goal for me, but it was also done to set the tone for the kind of intensity the Rost Foundation is committed to bringing to community work in 2008, and beyond. We will continue to support community organizations that give young people opportunities to thrive and be creative. We are also moving forward with exciting plans and projects to help individual children to participate in fun and uplifting activities.
I'd like to thank my friend Robert Reffkin who ran the marathon with me, and who inspired my run. Thank you to Robert Curran for making sure my mom and I had a place to rest our head during this busy Miami season. Thanks to Petra Nemcova, who touched my heart years ago with her passion for helping others, and whose sweet words reminded me what this work is really all about. And of course to my mother who was smiling big at mile 10, holding a sign that said, "GO Katie Rost!" which motivated me to keep going.
For those of you who were waiting until I finished the marathon to make a donation, please go to:
http://www.rostfoundation.org/donations.html
and help us reach the $10,000 goal. I'd like to highlight the following donors who sponsored my run. It is truly heartwarming to know people like you exist in the world. Thank You!"
Special thanks to - Mr. Rob Birgfeld- Mrs. Rynthia Rost-Buccine- Mr. Chad Buccine- Mr. Joe Buccine- Miss. Rachel Ceppos- Mr. Stratford Dennis- Ms. Avon Dorsey- Miss. Sarah Flack- Mr. Justin Fishkin- Mr. Joey Grill, CLICK Model Management- Mr. Jimmy Lynn- Mr. Ilan Shalit- Mr. Nick Sherman
With Light, Love, Blessings and Sore Feet,
Katie Rost
{Thanks Katie!}