Grammy award winner and singer/songwriter
Jill Scott
has announced a new partnership with Ashley Stewart Stores, a nationwide women's clothing chain, to create a line of intimate apparel for the plus-size woman.
The 'Butterfly Collection By Jill Scott' was created and inspired by Ms. Scott's own needs as a consumer to create what she was unable to find, a design that is both comfortable and attractive for females who have a larger than average cup size.
Many celebrities in recent years have partnered with corporations, creating their own goods and clothing lines, but Scott's venture is unique in that her hometown of Philadelphia along with her foundation,
The Blues Babe Foundation
, will also benefit.
This has already begun with the launch of the Cecil B. Moore recreation center in Ms. Scott's hometown of North Philadelphia. Condemned to be closed by the city due to funding shortages, an initial donation of more than $100,000 by the Foundation was able to renovate the auditorium, bathrooms, floors, and swimming pool, and provide new outdoor basketball courts and kitchen.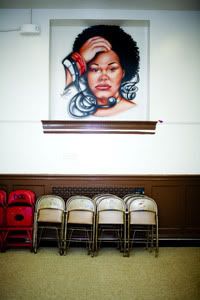 Scott grew up just two blocks from the recreation center, which is located in one of North Philadelphia's most troubled neighborhoods. She even shot her first video on the center's grounds. Because of Scott's $100,000 donation, other donations started to roll in, such as the city of Philadelphia which contributed $185,000 in capital funds to repair the roof and make other improvements. On Jill's foundation website it states,
"Once barely used the center is now a safe haven for many kids. Attendance had more then doubled for most programs. The center also serves as a curfew center for kids. Once slated for closure, Cecil B. Moore now serves as a model for community renewal."
Marla K. Minns, Executive Vice President and General Manager of Ashley Stewart Stores says of their collaboration with Jill Scott:
"The partnership with a world renowned artist of Ms. Scott's caliber is a special partnership for Ashley Stewart stores. We have always admired Jill's commitment to her music and the integrity tied to the artistry of her body of work. We look forward to not only working with her on this product line but helping and enriching our communities by using the partnership to inspire others."
Learn more about the Blues Babe Foundation
here
.
Sources and photo: PRNewswire, Philadelphia Weekly