Susan L. Taylor
, the former editor in chief of Essence magazine - a post that she held for nearly twenty years - is currently taking a break in South Africa. But when Taylor returns, she will devote her time to a new project.
In an automated out of office e-mail message she writes, "When I come back to the states in mid-January, I will be leaving Essence to do what at this juncture in my life has become a larger work for me — building the
National Cares Mentoring Movement
, which I founded as
Essence Cares
and today is my deepest passion."
Last year, Taylor appeared on the Oprah show, sharing that she could no longer live with the dire statistics on black males, such as one-third of black males born today will spend time in prison and that 48 percent of all black children live without fathers in their home. She stated to Oprah,
"It almost reads, Oprah, like poor fiction. That in the wealthiest country in the world we have 30 million people who go to sleep hungry every night. We have failing schools, everywhere there are poor people. And what we know is that failing schools are the pipeline to prison. There is absolutely no opportunity for you if you're in a school that is not serving you well."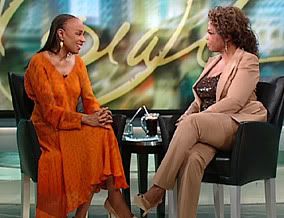 The National Cares Mentoring Movement is a call to action for every able Black adult to take under their wing a vulnerable young person, which costs nothing. On the
Cares Mentoring
website, you can get involved in your area and read success stories.
Mentoring works. Studies have shown that youngsters who are mentored are nearly 99 percent less likely to drop out of school; the boys less likely to join a gang, the girls less likely to become teenage mothers.
Taylor's passion for mentoring is not new. While at Essence magazine, Taylor often used her position to advocate for children and quality education.
Terrie Williams, a longtime friend of Taylor's is quoted in a recent
New York Times article
stating,
"It's a burning desire to use whatever resources she has to help our young people...She lives and breathes it."
She also stated that Taylor "
takes young people with her to most of the events she goes to. She's put kids through college. She's made calls to get kids in distressed situations in to college. She really is an icon in the black community."
Many of my readers know that I am a strong advocate for mentoring. If you have the time, please visit the website to sign up and get involved. If you are a mentor and would like to share your experience, send me an email at
blackgivesback[at]gmail.com
.
Sources: NYTimes, Oprah.com, CaresMentoring.com