At the age of 28, filmmaker Katrina Browne received a booklet from her grandmother about her family history. Browne knew that her ancestors were involved in the slave trade, but what she ultimately discovered was that her family was the largest slave-trading family in U.S. history.
The documentary Traces of the Trade: A Story From The Deep North, tells the story of the DeWolf family, Browne's Rhode Island ancestors. Nine descendants agreed to participate with Browne on her journey of retracing the steps of the Triangle Trade:
"From 1769 to 1820, DeWolf fathers, sons and grandsons trafficked in human beings. They sailed their ships from Bristol, Rhode Island to West Africa with rum to trade for African men, women and children. Captives were taken to plantations that the DeWolfs owned in Cuba or were sold at auction in such ports as Havana and Charleston. Sugar and molasses were then brought from Cuba to the family-owned rum distilleries in Bristol. Over the generations, the family owned 47 ships that transported thousands of Africans across the Middle Passage into slavery. They amassed an enormous fortune. By the end of his life, James DeWolf had been a U.S. Senator and was reportedly the second richest man in the United States."
Traces of the Trade had its world premiere in competition at the 2008 Sundance Film Festival and is being released to coincide with the Bicentennial of the U.S. Abolition of the Slave Trade.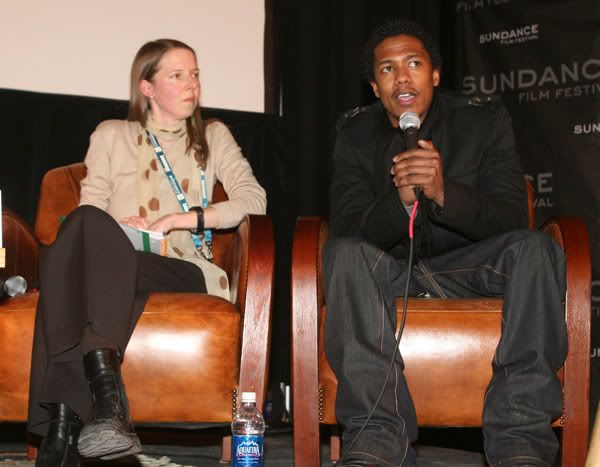 Katrina Browne and Nick Cannon attends Black In America at the Filmmaker Lodge during the 2008 Sundance Film Festival

On the film's website, it poses the questions: How can this change our understanding of the legacy of slavery today? What, concretely, is the legacy of slavery—for diverse whites, for diverse blacks, for diverse others? Who owes who what for the sins of the fathers of this country?

Photos: Wireimage