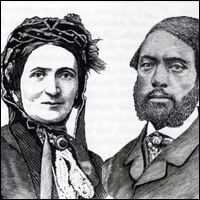 Today's feature is the story of William and Ellen Craft, who like their name, made a 'crafty' and daring escape from slavery in 1848. The Crafts are among the most famous of escaped slaves and are recognized as black philanthropists from the 18th century.
Ellen Craft was born in Macon, Georgia around 1826. The offspring of her slave mother and white slaveowner father, she was so light that she was often mistaken as a member of her slaveowner's family.

In 1846, she married William Craft. Because they were slaves and belonged to different owners, they could not live together - so they saved their money and devised a plan to escape. Ellen disguised herself as a white man, and her husband William posed as Ellen's servant.
From Wikipedia: During the Christmas season of 1848, Ellen daringly decided to use her light skin to pass as white in order to travel by train and boat to the North, with William posing as her slave. But in order to carry out this plan, Ellen also had to pass as male since a single white woman would not have been traveling alone with a male slave at this time. Although they encountered several close calls along the way, the plan worked. Eight days after they began in Georgia, William and Ellen arrived in Philadelphia on Christmas day.
In Philadelphia they were befriended by abolitionists William Wells Brown and William Lloyd Garrison, who recognized the power the Crafts' story could have as an antislavery tool. For two years, the Crafts shared their story of escape among abolitionist circles. Stories about them were published in The New York Herald, The Boston Globe, The Georgia Journal and The Macon Telegraph.
They then fled to England in 1850 in fear that the Fugitive Slave Bill would end their freedom. In 1868, the two returned to the states with five children in tow and purchased land in Georgia, where they opened the Woodville Co-operative Farm School in 1873 for the education and employment of newly freed slaves.
In 1860, the Crafts published a narrative, 'Running A Thousand Miles For Freedom' that illustrates race, gender and class in the nineteenth century. It is one of the most compelling of fugitive slave stories to date.
Photo credit: nydivided.org
Sources: Wikipedia, Gawomen.org
,
Africanaonline.com