On February 16th during the 2008 NBA All Star Weekend in New Orleans, prominent African American philanthropists
Jaci and
Morris L. Reid
hosted the 7th Annual Luncheon honoring
Behind the Bench
of the
National Basketball Wives Association
.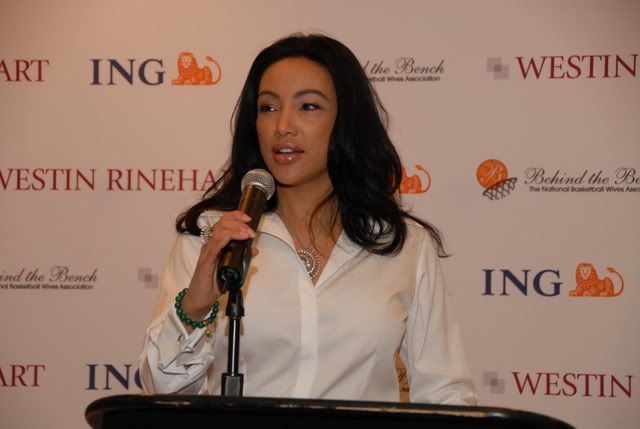 Jaci Reid
This stylish annual event is a staple on the calendar of events leading up to the NBA All-Star game every year, which honors charitable foundations spearheaded by leaders of the athletic and entertainment communities.

This year the luncheon presented an award to Ellen Haddigan, Executive Director of the Diamond Empowerment Fund (DEF), a non-profit founded by Russell Simmons, who is co-owner of the Simmons Jewelry Company. DEF raises funds to educate and uplift poverty-stricken African communities through sales of the Green Initiative jewelry collection.

This year's festivities also celebrated the efforts of community leaders who have dedicated themselves to improving the conditions of a post-Katrina New Orleans. The 2008 honorees included Debra Lee, Chairman and CEO of BET, Chris Duhon of the Chicago Bulls and Peja Stojakovic of the New Orleans Hornets. Actress Gabrielle Union, who can be found most recently on the ABC hit show Ugly Betty and the upcoming movie Meet Dave in which she co-stars with Eddie Murphy, presented the award to Debra Lee during the luncheon presentation.


Actress Gabrielle Union with BET CEO Debra Lee
Chris Duhon of the Chicago Bulls
The annual gathering celebrates the philanthropic work of
Behind the Bench
of the National Basketball Wives Association, which supports charitable organizations in the 30 cities where the league has franchises.
The Behind the Bench Luncheon began in 2002 as an intimate gathering for 50 women. It has since grown into a highly anticipated event for 200 influential women, including members of the National Basketball Wives Association and prominent women in business, philanthropy and entertainment.
"Behind the Bench, the National Basketball Wives Association established in 1993 to address the challenges confronting American families, with an emphasis on women and children
," says Charrisse Jordan, president of Behind the Bench and wife of Washington Wizards coach Eddie Jordan.
"We recognize the dangers facing youths today and believe each of us holds a responsibility in ensuring them safe and productive futures."
Kathy Chenault, wife of American Express CEO Kenneth Chenault; and Tonya Lewis Lee, wife of filmmaker Spike Lee
This marked the seventh year that the luncheon has been hosted by Jaci and Morris L. Reid, both former Clinton Administration officials, who are now co-managing Directors of
Westin Rinehart
, a Washington, D.C.-based government and public affairs firm. Additionally, Jaci Wilson Reid is now a full-time volunteer fundraiser for organizations that support women, children and the arts.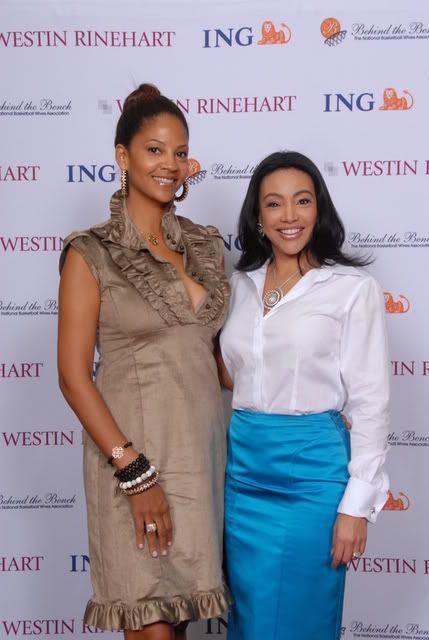 Tracy Mourning
with Jaci Reid
Past honorees include philanthropist Kathy Chenault,
Tionne "T-Boz" Watkins
, national spokesperson for the Sickle Cell Foundation,
Roberta Shields
of the Ludacris Foundation, television personality
Star Jones Reynolds
, Atlanta Mayor
Shirley Franklin
and
Robin Bronk
, Executive Director of The Creative Coalition. Previous NBA players honored include
Alonzo and Tracy Mourning
of Alonzo Mourning Charities.
Event sponsors included Elite Traveler and Guerlain beauty.
About Westin Rinehart
Westin Rinehart is a Washington, D.C. based full-service government and public affairs firm that provides strategic communications and marketing strategy to a range of multi national corporations, government agencies, non-profit organizations, public figures, luxury brands and celebrities. The firm is actively involved in the shaping of public policy issues and opinions that stimulate business and dominate political, corporate and cultural agendas.
Photos courtesy of Westin Rinehart