Recently featured on the Oprah show, the women of the
Gee's Bend Quilters Collective
consists of more than 50 African American women who live in Gee's Bend, Alabama. The women create stunning and colorful quilts, of which the New York Times has called "the most miraculous works of modern art America has produced."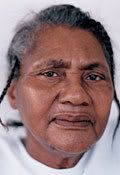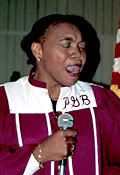 Quilters Mary Lee Bendolph, Leola Pettway and China Pettway
In recognition of Black History Month, AT&T unveiled a specially commissioned quilt that celebrates the spirit of African-Americans and highlights the unique talents of the renowned Gee's Bend Quilters. AT&T's relationship with the Gee's Bend Quilters Collective is just one of their most recent commitments to celebrate and preserve African-American culture.
The history of quilting in Gee's Bend dates back to the 1800s, when the women of Gee's Bend -- which remains a small, isolated, all-black rural community outside Selma, Ala. -- developed a style that featured distinct, bold, sophisticated designs.
The AT&T Gee's Bend Quilt was created by 46 members of the Gee's Bend Quilters Collective, who range in age from 19 to 90. They worked together for more than 250 hours to complete the artwork, which is destined to become a part of black cultural history.
"Working with my mother, Leola Pettway, on our two squares for the commissioned quilt for AT&T was wonderful because it brought back memories of the old days, when we went from house to house quilting with all the women
,
"
said China Pettway, member of the Gee's Bend Quilters Collective and member of the board of the Gee's Bend Foundation.
"We sewed our history right into this quilt and are proud to celebrate Black History Month. This gave us the chance to sit with a large group of the women, singing and sewing together."
This spring, the quilt will tour the U.S. and make stops at AT&T locations in Atlanta; Birmingham, Ala.; Detroit; Los Angeles; Chicago; and St. Louis and will be donated to the National Council of Negro Women (NCNW).
For more information on the Quiltmakers of Gee's Bend and to view photos of their quilts, visit the website at:
http://www.quiltsofgeesbend.com/
Source: AT&T via PRN
Photos: Gee's Bend Website