The
Jackie Robinson Foundation
was founded in 1973 by Rachel Robinson, the wife of baseball and civil rights luminary Jackie Robinson, to provide college scholarships to minority students and to preserve the legacy of the Baseball Hall of Fame member.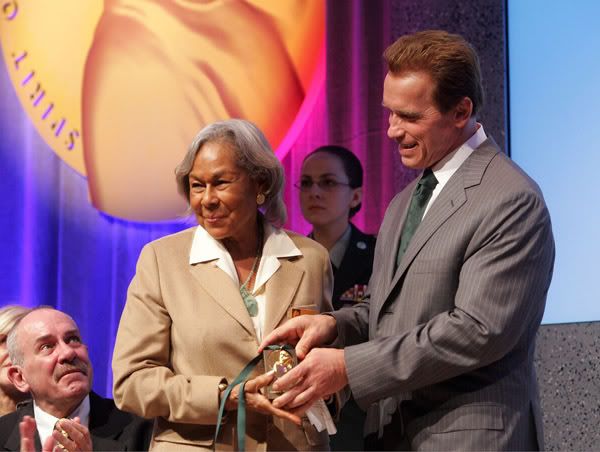 Rachel Robinson accepts an award from California governor Arnold Schwarzenegger on behalf of the late Jackie Robinson at the 2007 California Hall of Fame Inductees ceremony in December, 2007. She stated, "It is my hope that Jack's legacy will inspire others to make much needed positive contributions to our society".
The Foundation provides four-year college scholarships to minority students with records of academic achievement, leadership capacity, civic engagement and financial need. More than financial assistance, the Education and Leadership Development Program offers all Jackie Robinson Foundation scholarship recipients a comprehensive set of support services including mentoring, networking opportunities, career exploration programming and practical life skills training.
On March 3rd, the foundation will celebrate its 35th anniversary with their annual awards dinner at the Waldorf-Astoria Hotel in New York. Hosted by
Bill Cosby
, the event will honor individuals who embody the humanitarian ideals of Jackie Robinson: Recording industry pioneer
Clive Davis
, Chairman of BMG Label Group (Lifetime Achievement Award); world-renowned film producer, director and screenwriter
George Lucas
, Chairman of Lucasfilm Ltd. (ROBIE Achievement in Industry) and higher education trailblazer
Dr. Johnnetta B. Cole
, President Emerita of both Bennett College for Women and Spelman College (ROBIE Humanitarianism Award).
This academic year, the Foundation is providing $3.1 million dollars in scholarship support and programmatic assistance to 259 Jackie Robinson Foundation Scholars at 93 colleges and universities.
Since the Foundation's inception, more than $16 million in scholarship assistance has been provided and the Scholars have maintained a remarkable 97% graduation rate, more than twice the national average for minority students.
The scholarship alumni go on to become part of a dynamic Alumni Association whose ranks include the first African American golfer in the Ivy League, an internationally touring classical pianist who was a former Miss America runner-up, a partner at a leading Wall Street investment bank and scores of doctors, teachers and lawyers.
Applications for the Jackie Robinson Foundation Education and Leadership Development Program are now available exclusively online at the Foundation's website,
http://www.jackierobinson.org/
. Completed applications must be submitted by 11:59pm ET on March 31, 2008.