Photo: Wireimage
On March 1, 2008, the
Jayneoni Moore Children's Fund
hosted a
Readalicious Book Bash
in Los Angeles, California. The Readalicious Campaign provides new books to children while raising awareness of the lack of books accessible to children in economically disadvantaged communities. The Campaign has reached more than 1,000 children this spring alone - giving them a school bag bursting with books from prominent publishing companies such as Kane/Miller Publishing, Blue Apple Books and Simon & Schuster.
An array of adult and child celebrities were on hand to celebrate the joy of reading with a room full of excited L.A. Boys and Girls Club members. The children had the ability to create their own books in an arts and crafts area provided by Crayola. The children weren't the only ones to get caught up in the excitement and lighthearted mood of the event.
American Gladiator's Mayhem and actress Jodi Sweetin
The celebrities read from
Smitten
as well as other books of their choosing.
Actress Shar Jackson

Small Change singing Green Eggs and Ham

Actors Field Cate and Sammi Hanratty

Jennette McCurdy, Field Cate, Sammi Hanratty, and Mayhem
Actress Ashley Jones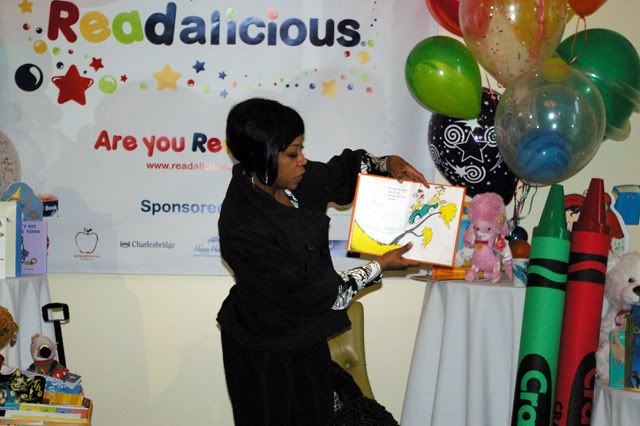 Tichina Arnold, actress and star of Everybody Hates Chris
Other celebrities in attendance included actors Chico Benymon and Justin Martin.
David Gordon, the author of
Smitten
, and Susan Siegel, who thought up the book's concept, were present to read and sign the book. Afterwards, each child was treated to a signed copy of
Smitten
as well as a bag stuffed with books.
Susan Siegel, Jayneoni Moore and David Gordon

Jayneoni Moore
, who is an honorary co-chair for this year's Read Across America Campaign, believes that reading is the foundation to learning and the key to ending poverty in black communities. Believing that there is a strong purpose to giving back to the community, Ms. Moore began her foundation in 2001 with a mission to aid disadvantaged children.
This year's focus for the Children's Fund is to provide books to schools in low income communities, as well as encourage parents to read with their children. A love of reading, Ms. Moore states, ensures success in all academic areas.
Madison Davenport, from the soon to be released "Kit Kittredge: An American Girl", shared her love of reading with this reporter. "
Reading is a way to escape
," she said. "
A book can make you cry or laugh. It can even make you angry.
" It is that passion inspired by books that the Readalicious and Read Across America Campaigns are hoping to tap into to engender a life-long habit and joy of reading.
And if the smiles of these young boys are any indication, it seems that Saturday's event was a rousing success.
Read more about Jayneoni Moore and her Children's Fund
here
.
Thanks to Mikey and Jayneoni for the invite!