Actress and NAACP award winner Jurnee Smollett has announced a $2 million dollar scholarship fund for Wiley College, the inspiration behind the award winning movie, The Great Debaters.
From BET.com:
"The scholarship is in honor of Henrietta Bell Wells, the woman who inspired her character Samanthe Booke in "The Great Debaters," as well as the actress' mother Janet Smollett, a civil rights activist and humanitarian.
"I'm told I'm a statistic," Smollett said to the crowd. "I'm told that my young black sisters are disease-ridden...but we are greater than what society tells us we are."
The 21-year-old said the scholarship fund aims to "put young girls through college" and help curb the sensationalized images of Black women often seen on television. Smollett, who portrayed the only woman in a group of underdog Wiley College debaters in the film, was also presented with an honorary degree at the school's Founders Observance Convocation."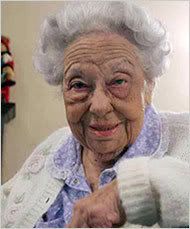 In related news, Henrietta Bell Wells recently passed away on February 27 at the age of 96. As the first and only female member of the debating team, she advised Denzel Washington on the movie. He called her "another grandma."

A valedictorian of her high school class, she received a modest scholarship from the YMCA to attend Wiley College.
Her advice to today's students, "learn to speak well and learn to express yourself effectively."
Source: NYT