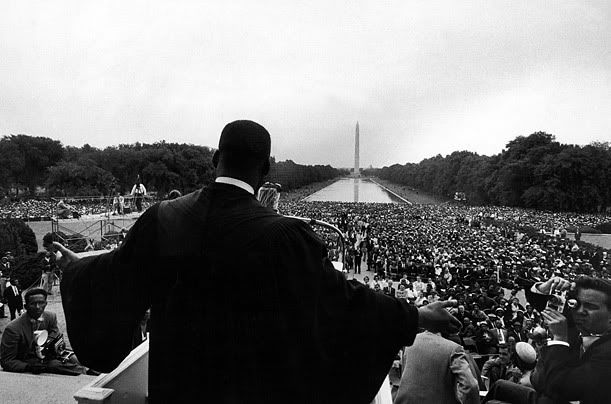 Forty years ago today,
Martin Luther King, Jr.
was assassinated in Memphis, where he traveled to support the sanitation workers strike. As news of his death spread, riots broke out in Washington, Baltimore, Chicago and in over 100 other cities across the country. Some who lived through this frightening time say this country has not been the same since. Ruth Stewart, who at the time of the riots was a young mother, shared in a
Baltimore Sun article
, "
When they killed MLK, that did it,"
she says
. "The peace just went. He was for nonviolence, but they brought out the violence in us."
Today, the news is unsettling: Reports show that half of America's black and Hispanic students
don't finish high school
, students in Chicago
fear going to school
at the risk of being killed, and 3rd graders
plot to attack
their teacher. Even my alma mater, once regarded as the premier high school in Washington, D.C. is on
lockdown
.
In the words of the Marvin Gaye classic, what's going on? As I stated in a
previous post
, Martin Luther King would not be pleased with the state of the black community today. And it seems like every year on his holiday and the anniversary of his death, people want to revisit what he stood for and died for. Well I'm here to tell you that amidst the parades and recognitions, America needs to fight for his dream everyday, not just two times a year. Here's what you can do:
1.
Is there a drop out crisis in your community?
Find out
here
. If there is, take steps with your community to address this problem. Start by joining the
15 by 5 Campaign
Network of America's Promise Alliance, founded by Colin and Alma Powell, to become part of a national network with others working to combat this crisis.
Other related website:
ED in '08
2.
Mentor a youth
. If you have your own family and don't have the time, how about inviting a youth on a family outing with you who doesn't have a father figure? Summer is approaching – sponsor a child at a camp, to take music lessons or any fun and enriching activity.
Essence Cares
National Mentoring Partnership
I can't stress enough how important mentoring is. Our youth are having it tough in the nation's urban public school systems and they need caring, committed adults (parents can't do it all!) outside of school to help them succeed in life.
3.
Are you a business owner?
Hire a youth for an internship or after school employment. Not only will they learn valuable work skills, but you'll be keeping them off the streets - especially during the times when juvenile crime is highest, from 3-6 pm.
Just three to get you started. Have additional ideas on how people can get involved? Leave a comment!
There are many events being held across the country to commemorate the 40th anniversary of Martin Luther King's homegoing. Last month, Kevin Liles and friends celebrated the legacy of the great civil rights leader in New York:
Stephen Hill, Kevin Liles, Andre Harrell, Al Sharpton and Debra Lee celebrate Dr. Martin Luther King at a private residence on March 19, 2008.
In London, Martin Luther King, III attended a launch honoring his father at The Royal Festival Hall on April 1, 2008:
On the Web:
Washington, D.C. Martin Luther King National Memorial Foundation
Build the Dream Blog

On Television:
'The Night James Brown Saved Boston'
Premiering On VH1 And VH1 Classic On Saturday, April 5 at 9:00 PM EST. As other cities were going up in flames after the assassination of Martin Luther King, Boston feared it would be next. This documentary highlights how a James Brown concert saved Boston and brought together a city.
Photos: Public domain, wireimage