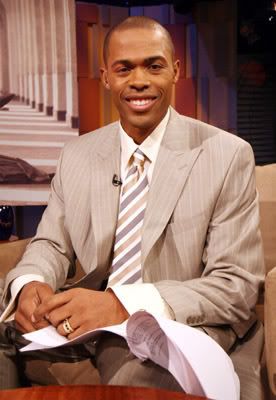 Not only is Dr. Ian Smith helping celebrities lose weight and get fit on VH1's Celebrity Fit Club, he's helping black America shed pounds.
Dr. Ian's
50 Million Pound Challenge
was launched one year ago today, April 7, 2007 in Washington, D.C.
In November
, the Challenge announced that over 250,000 people joined the cause, losing one million pounds. One year later, the challenge has inspired almost a half a million people to team up to take control of their health, take off close to two million pounds and fight the epidemic of excess weight taking so many lives, especially among African Americans.
This past year, celebrities such as Patti LaBelle, Michael Strahan and Steve Harvey joined Smith for a 14-city kickoff tour and has resonated across America with its rallying cry 'Give up the pounds, not the fight.'
Today, Dr. Ian will be at NYC's Apollo Theater to begin a month-long anniversary celebration. The Challenge is celebrating its first-year milestone by taking its message to grassroots America, and marking April as "50 Million Pound Challenge Month." The initiative is partnering with churches, colleges and civic organizations across the nation to mobilize more members and sustain its drive to reach its ambitious 50 million pound goal.
"We've had a great first year, and The Challenge has just begun. It's imperative we inspire more people to join and reach their personal health goals, and collectively help us achieve our 50 million pound goal," Dr. Ian said. "Too many people are dying from preventable weight-related illnesses. We're facing an epidemic that affects all Americans, especially the African-American community, where lives are being cut five years shorter than the US average."
Anyone can join the growing Challenge online community at
http://www.50millionpounds.com/
, where participants can find free tips, tools, a personal weight tracker and start or join Challenge teams to support their quest to lead healthier, longer lives.
Source: Press release, BPRW