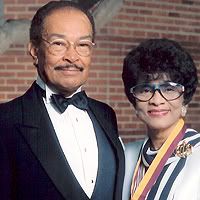 Via USC News:
Verna B. Dauterive
M.Ed., Ed.D. has pledged $25 million to her alma mater, the University of Southern California. Her gift, whose specific designation has yet to be determined, is made in memory of her late husband,
Peter W. Dauterive
, a 1949 graduate of the USC Marshall School of Business.
"This is a history-making gift," said USC President Steven B. Sample. "It is the largest ever made by an African American to a U.S. institution of higher learning. We are tremendously grateful to Dr. Verna Dauterive – an alumna who personifies excellence in her professional and civic life – for honoring her alma mater in this way.
Born and raised in Louisiana, the Dauterives met as students in USC's Doheny Memorial Library and maintained lifelong ties to the university.
After serving in the U.S. Army during World War II, Peter Dauterive enrolled at USC under the GI Bill. He graduated near the top of his class, and USC secured a placement for him at the Broadway Federal Savings & Loan Association, where he rose to the position of executive vice president and managing officer. He later earned a master's degree in executive management from the University of Indiana and in 1973 became founding president and CEO of the Founders Savings & Loan Association.
Verna Dauterive received her bachelor of science degree from Texas' Wiley College (home of "the great debaters") in 1943 and moved to California shortly after graduation. Within months, she landed a teaching job and embarked upon a 62-year career with the Los Angeles Unified School District.
In 1985, she and her husband endowed the Dr. Verna B. Dauterive and Peter W. Dauterive Scholarship – the university's first scholarship for minority doctoral students in education.
In a L.A. Times
article
, Verna shared about the contribution,
"It's going to allow more students to attend 'SC, perhaps provide more diversity at 'SC, and I'm hoping it will encourage African American alumni who have profited from their degrees at 'SC and are doing well in life but have not contributed what they can afford to contribute."

Sources: USC News & LA Times
Photo: USC.edu