I receive many emails from readers with news stories of everyday heroes in their communities - and I love reading them all. Occasionally there's that one story that jumps out at me and I just have to share it: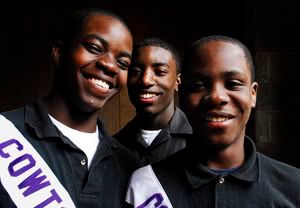 In the photo above are Kevin Jones, 17; Kareem Rosser, 15; and Brandon Rease, 12 of Philadelphia's Work to Ride program. Don't they look happy? It's probably because today they're traveling to Nigeria to compete in an international polo tournament. Yes, they're polo players!
Snippets of the article from Vernon Clark of Philly.com:
"This is huge," said Lezlie Hiner, who established the nonprofit program in 1994 to help children develop horseback skills and offer an alternative to the city's often dangerous streets. It is open year-round to children 8 through 18. "We've never been out of the country together as a team."
The team members are Harris, a senior at World Communities Charter School at Broad and South Streets; Brandon Rease, 12, of North Philadelphia, a fifth grader at William Levering School in the 6000 block of Ridge Avenue; Kevin Jones, 17, of the city's Germantown section, a junior at Valley Forge Military Academy; and Kareem Rosser, 15, of Southwest Philadelphia, a freshman at Valley Forge Military Academy.
They will be in Nigeria for 13 days. They are scheduled to play two matches, one against a South African team and one against an opponent to be named later. They also will participate in four clinics.
"We're the only African American team in the country," said Hiner, who is white and who will serve as a chaperone on the trip.
This is my first time out of the country," said Rease, who said he had competed in a tournament in Texas.
Rease said he also played basketball and baseball, but what he liked about polo was "going fast, hitting the ball in the air, and bumping" opponents.
Hiner said: "If people know about us, they are not surprised, but if they don't know about the kids and their skills, then they are fairly well surprised at what they can do."
Read article
here
.
Check out the program's website with more information and pictures at
http://www.worktoride.net/
and visit their blog
here
.
Photos: Sarah J. Glover/Philly.com