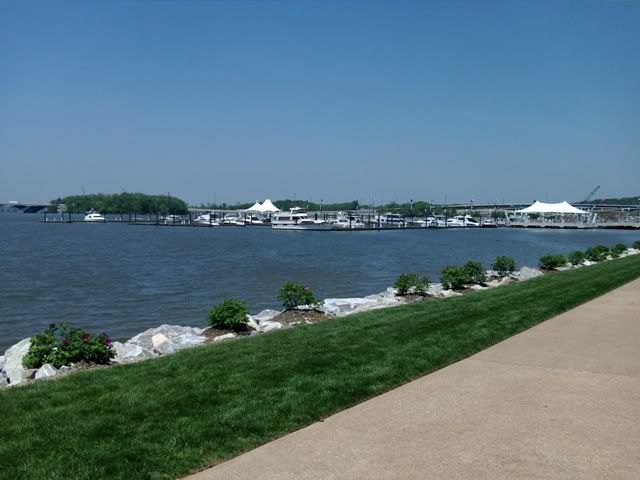 What you're looking at is a view from the beautiful, brand spankin' new Gaylord National Resort & Convention Center, located in Prince George's County, Maryland just outside of our nation's capital. So why was I there? The biggest philanthropic gathering in the U.S. and around world is taking place here with over 3,000 attendees who include CEOs, trustees, and professional staff of U.S. and international foundations from across the entire philanthropic sector - and yours truly was there to cover it! The summit, Philanthropy's Vision: A Leadership Summit, is bringing together private/independent foundations, community foundations, corporate grant makers, and business and political leaders that represent a wide range of giving interests and missions.
Hosted by the
Council on Foundations
, a membership organization representing more than 2,100 grantmaking foundations and corporations, the summit runs May 4-7. Steve Gunderson, President and CEO of the Council on Foundations stated,
"Every philanthropic organization has a mission to make the world a better place. Our job is to improve the practice of philanthropy and find areas where we can work together to achieve greater success."
The summit will feature thousands of sessions on philanthropy and the economy, women, Hispanics, diversity, disaster relief, the environment, professional sports, workforce solutions, international philanthropy and a generational leadership program.
One session I attended yesterday was titled,
How Media Impacts Life Outcomes for Black Men and Boys
. Hosted by the Association for Black Foundation Executives (ABFE), a New York based organization that promotes effective and responsive philanthropy in black communities, the panelists spoke to the cultural, political and social impact of the media on black communities. Tony Brown, veteran journalist and host of the longest running PBS series Tony Brown's Journal, moderated the panel discussion. So why should we care about media's impact on the black community? One panelist summed it up in one sentence:
You cannot have social justice until you have media justice.

Consider this:
"The census shows us that 80% of white Americans live in segregated neighborhoods and people of color don't fare much better. So what that means for the most part is we don't go to school together, is that we don't go to church together and we don't eat in neighborhood restaurants together – so what we learn about the black male is from the media.

People of color, and black men in particular, continue to be overrepresented in stories about crime, sports and entertainment and underrepresented in stories about business, lifestyle and everyday life.

So when you read a story that says 28% of all black men at some point spend some time behind bars and that story does not address what the other 72% of black men are doing, it makes a difference on how black men are going to be judged when they're going out on job interviews or just walking down the street."

You can't have social justice until you have media justice. Until we correct the images of African Americans in mainstream media, it's going to be almost impossible to change public policy around issues of crime, education and healthcare."
Also, Tony Brown announced for the first time in public that his show, Tony Brown's Journal, will cease at the end of this month due to funding. He's contributed $500,000 of his own personal funds in addition to donating $100,000 for a journalism scholarship program at Hampton University - and he simply can't continue to do both.
You can read my full post on this session
here
, as a guest blogger at
New Voices of Philanthropy
, a blog by Trista Harris, an African American program officer at the St. Paul Foundation in Minnesota.
Thanks to Bryan and the Council on Foundations for the invite!