In October 2007, the city of Philadelphia issued a call to men, particularly black men: Join the 10,000 Men Movement! Created in response to the city's skyrocketing homicide rate among black males, the movement aimed to recruit 10,000 men to serve as mentors, patrol the streets and reclaim neighborhoods.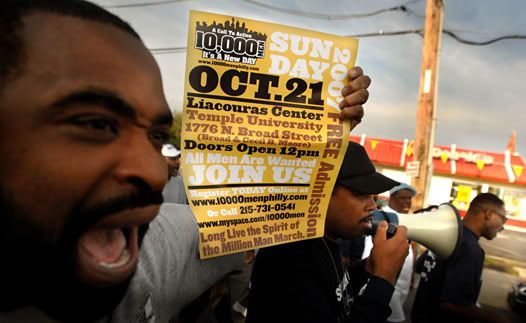 So I wondered, What's the progress of the movement? Did they enlist 10,000 men? Have they made an impact?
I searched for answers and I found an article from the Philadelphia City Paper (Feb. 2008) titled,
Can You Find the 10,000 Men?
The link is
here
, but take a look at a quote from the article I found interesting: "The same thing is happening here that happened after the Million Man March…its fading away. Things like this need continual resurgence."
The article highlights two men that joined the movement, but had little to no communication from the organizers after the rally. The author notes that the men haven't given up, but the momentum is gone. The organizers state that over 5,000 men have signed up and been verified, but its apparent from the article that not much critical action has taken place.
Although Philadelphia's movement has not sprung into action as it had hoped, other cities are spearheading similar efforts. On May 21st, Baltimore leaders announced an effort to recruit 5,000 men to serve as mentors in the public schools to address the drop out rate, youth violence and absentee fathers. So far, 700 men have joined the effort. On June 15, 2008 at the Baltimore Convention Center, the organizers will host a fair where men can sign up for volunteer opportunities with over 100 community programs in the city.
Galvanizing a movement as big as these efforts takes time, strategic planning and dedicated community members. Communities usually jump into action following a rash of youth homicides or upon a tragic death of an innocent youth senselessly gunned down - but its important to practice preventative efforts – don't wait until tragedy strikes your community to take action. Below are two efforts in Washington, D.C. and Chicago.
WASHINGTON, D.C.:
Let No Brothers Fall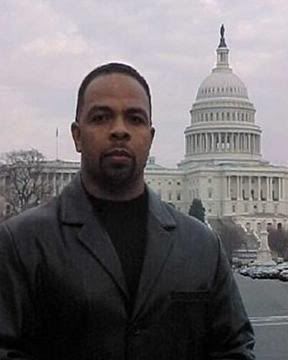 Mike Jones, Founder and Executive Director of the Fraternal Organization of Black Men Rising says, It's time for Black men to step up to the plate!!!
Mike states, "Have you ever wondered why the level of violence is so high among Black males? Or why so many Black males are failing in school or dropping out altogether? Or why so many Black males are incarcerated? It's because adult Black men have failed young Black males.
We as Black men have failed the young Brothers in the streets, in the schools, and in the home. We have failed them as fathers, mentors, role models, educators, and community leaders. We have failed to show them what it means to be a man, and what it means to be a Black man in America. We have failed to provide a counter balance to the negative influence of mass media stereotypes, the glamour of the gangsta rap videos, the lure of the drug "game", and the allure of the so-called "thug life."
How many Black men actually have full-time careers educating, uplifting, and empowering Black males? How many Black men pursue careers in education, and then teach in inner-city schools? How many Black men start fraternal organizations to fellowship with other Black males of diverse socio-economic backgrounds? How many Black men operate community service organizations to exclusively serve the needs of underserved Black male youth and adults? Not many, and definitely not enough.
It's common knowledge (or should be) that boys follow behind men, and do what they see men do. Therefore, when Black men act like they care, young Black males will act like they care. When Black men start engaging young Black males as fathers, mentors, role models, educators, and community leaders, then young Black males will start engaging other Black males in the same manner.
When Black men step up to the plate and do what they are supposed to do, then young Black males will naturally follow."
On May 19th, Black Men Rising hosted the event, Let No Brothers Fall, to address the escalating levels of violence in the D.C. area and to officially launch their organization, whose mission is dedicated to educating, uplifting, and empowering Black male youth and adults. Applications are being accepted for board members and ex-offenders are encouraged to apply. For more information,
mjones@blackmenrising-md.org
. On the web:
http://www.blackmenrising-md.org/
CHICAGO
: It's Time for a Movement of Black Men!

Phillip Jackson, founder of the
Black Star Project
states, "It is time for a Black men's movement in America. Black men from all over the country must galvanize around some very simple principles. We must redesign the way that Black men relate to and serve their families and their communities. No other effort to date has worked to address the national catastrophe happening in most of America's cities among Black youth. Black men - not the government, not Black women, not other people - must take the lead in fixing this problem. But where are the Black men?"
Their three essential and dynamic principles for black men are: 1) Black men must become the catalytic force in rebuilding the Black family; 2) Black men must take control of the education of Black children - formal and informal; and 3) Black men must create and control a new sub-economy in the Black community.
Join them this Saturday, May 24, 2008, at 11:00 am, 3509 South King Drive, Chicago as they work to develop a Movement of Black Men for their communities. Organizers are preparing for their "Take Peace to the Streets" door-to-door canvassing effort on Saturday June, 7, 2008 in the Austin community on the west side of Chicago and for the "Men In Schools" week at 14 schools. One hundred men for both initiatives are needed.
For more information, call 773.285.9600. On the web:
http://www.blackstarproject.org/
Photo: Baltimore Sun/AP