USA Today President & Publisher Craig A. Moon with Magic Johnson
USA Today honored
Magic Johnson
with the Hollywood Hero Award on May 6, 2008 in Beverly Hills. The award is presented annually to an entertainment industry humanitarian who has made remarkable contributions of time and energies with a non-profit organization dedicated to enriching the quality of life for others. Johnson was recognized for his work in entertainment and underserved communities with the
Magic Johnson Foundation
.
Magic Johnson, Cookie Johnson, Chante Moore and Kenny Lattimore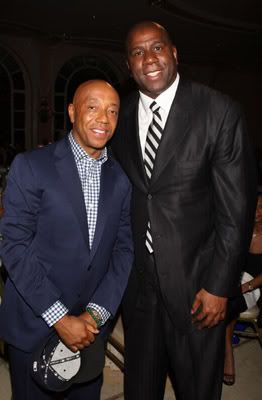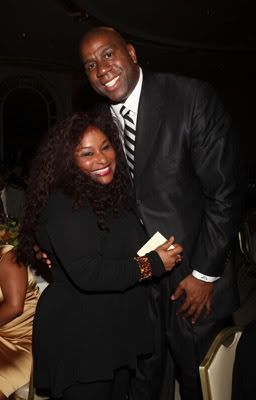 Magic Johnson with fellow philanthropists Russell Simmons, and R&B legend Chaka Khan
Mary J. Blige
recently celebrated the Heart of the City Tour wrap up party on May 7, 2008 in New York. I attended the tour while I was in Houston last month on business. Although I partially lost my hearing for a day, it was worth the ticket.
Mary with fellow philanthropist Kevin Liles
In related news, Mary J. Blige along with record executive
Steve Stoute
, have launched FFAWN, the
Mary J. Blige and Steve Stoute Foundation for the Advancement of Women Now, Inc.
The
website
states that the foundation's mission is to inspire women from all walks of life to reach their individual potential. Through scholarships, grants, and programs that foster strong self-esteem, career development, and personal growth, FFAWN is intended to help women gain the confidence and skills they need to achieve success. The foundation will initially focus its efforts in Yonkers and surrounding communities in Westchester and then expand its scope to include the Greater New York area and, eventually, the entire country.
Sheila Johnson
attends the Rwanda tea & panel discussion during the 2008 Tribeca Film Festival along with Tribeca Film Festival Co-Founders Craig Hatkoff and Jane Rosenthal, May 1, 2008 in NYC.
Patti LaBelle
alongside Valeria Bell, Sean Bell's mother, onstage at the Diva's With Heart benefit concert, May 4, 2008 at Radio City Music Hall in NYC. (For those of you who don't know, Sean Bell is the young black man who was gunned down by three NYC police officers on the eve of his wedding, who were later acquitted.)
Dr. Dorothy Height
, Chair and President Emerita of the National Council of Negro Women was honored as the Ford Freedom Award Scholar, at the Charles H. Wright Museum of African American History, May 6, 2008 in Detroit, Michigan. Alongside Dr. Height is
Bernice King
, daughter of Coretta Scott King, who was also honored posthumously.
The Ford Freedom Award program was created in 1999 to celebrate and recognize individuals whose achievements brought lasting and positive change for African Americans and the world. The program is underwritten by Ford, and funds raised are used to support the Charles H. Wright Museum of African-American History's educational programs, exhibits and community outreach initiatives. Past honorees have included Ossie Davis, Langston Hughes, Bill Cosby, Dr. Ben Carson, Al Jarreau and Sonia Sanchez, to name a few.
Source: Ford press release
Danny Glover
attends a briefing on the global food crisis, May 8, 2008 in Washington, D.C.
Academy award winner
Denzel Washington
and his wife Pauletta, announce the
Pauletta and Denzel Washington Family Gifted Scholars in Neuroscience Awards
. The awards are given by the Cedars-Sinai Department of Neurosurgery, providing research stipends to one undergraduate and graduate student every year. In photo: Dr. Keith Black, Pauletta Washington, scholarship award winner Debi Thomas and Denzel Washington. Debi Thomas is a junior at Univ. of California at Davis, studying neurobiology, physiology and behavior, interested in finding a cure for Parkinson's disease.
Source: lohud.com
Tyler Perry
, named as one of Time magazine's 100 Most Influential People in the World for 2008, with actor Keenan Thompson, at the Time magazine gala, May 8, 2008 in New York City.
Photos: Wireimage