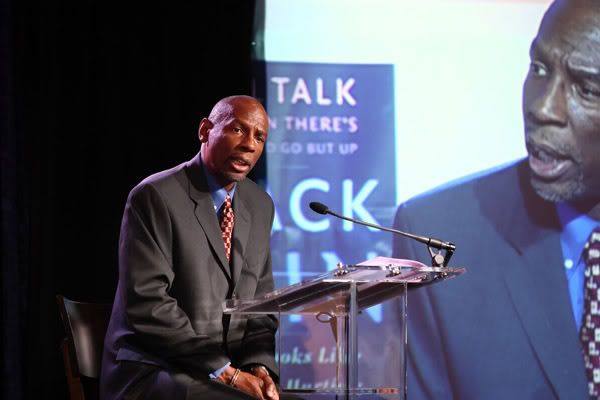 The Open Society Institute
, an international private grantmaking foundation, announced today a new initiative -
The Campaign for Black Male Achievement
:
"The Open Society Institute's U.S. Programs announced a new campaign to address the exclusion of African American men and boys from the economic and political mainstream in the United States.
Today's announcement comes on the heels of a growing body of research revealing that the isolation and negative outcomes for African American men and boys is more extreme than previously acknowledged. For example, more than 50 percent of all African American boys do not finish high school and a mere 18 percent of black males aged 18 to 21 are enrolled in college. A black child was more likely to grow up with both parents during the era of slavery than today, and nationally 13 percent of black men cannot vote because of felony disenfranchisement laws.
Building on U.S. Programs' previous work to promote racial justice and reduce over-incarceration, the campaign aims to reform educational outcomes and improve economic well-being.
"The problems facing men and boys in the African American community do not exist in a vacuum. This is America's problem," said
Geoffrey Canada
, (in photo) president and CEO of the Harlem Children's Zone and a board member for U.S. Programs.
OSI's campaign, which in its first year will devote $2 million to programmatic development, will support individuals and organizations working to develop alliances among scholars, social justice organizations, the arts and culture industry, as well as other philanthropic endeavors to address black male achievement. The campaign's first grantees are the
Center for Urban Families
, for its innovative Responsible Fatherhood strategy, which connects a strong direct service program with public policy, and the
21st Century Foundation
, for its Black Men and Boys Initiative."
To learn more, visit the website
here
. For a pic of the Institute's founder, see my previous post
here
.
Source: Press release