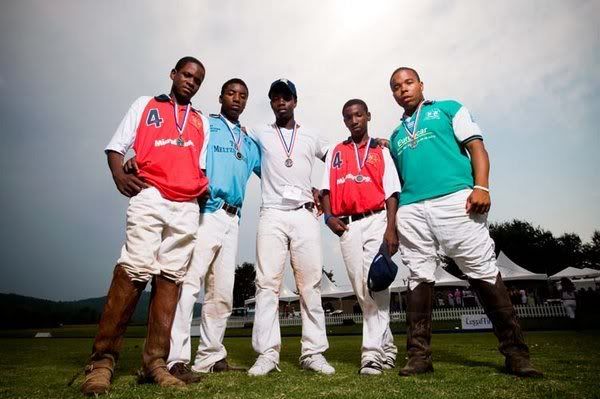 This past Saturday, June 21st, I had the pleasure of attending the
5th Annual Courage Cup
, a charity polo match in The Plains, Virginia featuring the youth from the
Work to Ride
program, the first African American polo team in the nation. The kids were amazing! I stood there in awe! Let's meet some of the players:
Kevin Jones: Kevin is a 17 year old junior in high school. He joined the program in 2006 where he quickly learned to ride and started playing polo a year after joining the program. His career interest is to become an architect.
Daymar "Gerb" Rosser: Daymar is a 13 year old 6th grade student who has played polo since 2001. This is his first season as a rated player and he hopes to become a lawyer.
Brandon Rease: Brandon is a 12 year old 7th grade student who joined the program in 2005. He plays the #3 position on the team and was the youngest player to compete in the Emir of Katsina Charity Shield Polo tournament in Nigeria, Africa.
Kareem Rosser: Kareem is a 15 year old freshman and has been in the Work to Ride program since 2001. His first love is polo and he aspires to become a pilot.
Not pictured: Tasha Harris is an 18 year old recent high school graduate, who was voted to the Southeast Regional Interscholastic Polo All Star team in 2007 and 2008. The only female player who accompanied the team to Nigeria, she is headed to Temple University this fall and aspires to become a veterinarian.
The program is housed at Chamounix Stables, located in Fairmount Park, Philadelphia. While in the program, the youth develop discipline, responsibility and life skills through training, riding and performing horse care and barn management chores. In addition to learning life skills, the program emphasizes the importance of academic achievement. Staff and volunteers provide after school tutoring to help the youth maintain passing grades required for program participation. As the youth graduate from high school, they must return to the program to mentor new participants.
Proceeds from the polo match benefited the Work to Ride Program and
Washington, D.C. Inner City Outings
, a community outreach program that provides low-income, inner-city youth with wilderness experiences.
Doesn't he look dapper? I saw this young fellow at the event and I just had to post his picture. For more images from the event, view a slideshow at J Allen Images
here
.
Thanks to Andrea Rodgers, CEO of the Courage Cup for the invite and Joseph of Joseph Allen Photography for the pix!
To the youth of the Work to Ride Program: All of you are truly an inspiration to the African American community - particularly for our youth. Keep up the great work and continue to reach for your dreams!
Photo credit:

DC Photographer