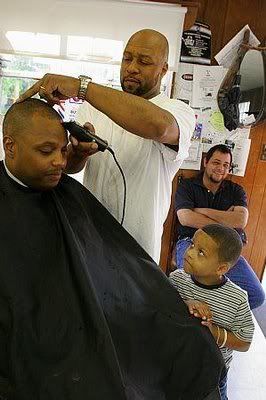 National Institute for Literacy and Mocha Moms Team Up to Boost Boys' Literacy Skills
Via press release:
"The National Institute for Literacy and Mocha Moms, Inc., a national support organization for stay-at-home mothers of color, have launched an innovative partnership to boost children's literacy skills, and they are turning to local barbershops to kick off their new effort.
On June 21, 2008 from 3-5 p.m., the Institute and Mocha Moms will unveil a reading nook at Campbell's Barbershop, 5703 Dix Street N.E., in Washington, D.C., complete with more than 250 books for boys and free publications for parents that support the development of reading and other literacy skills at home.

The new booknook is part of Boys Booked on Barbershops (B-BOB), a growing national initiative launched in 2004 that takes advantage of naturally occurring opportunities in the community to foster a love of reading. B-BOB reading nooks have debuted in more than 100 barbershops across the country, from Florida to Illinois.
Mocha Moms, Inc. has been a B-BOB partner since 2006. Since then, more than 30 Mocha Moms chapters across the country have signed on to create reading nooks in local barbershops. The nooks will feature books by and about African Americans, with an emphasis on topics that interest the barbershop clientele.
According to the National Center for Education Statistics, nine out often African-American students have not mastered reading by the fourth grade. Through their new partnership, the Institute and Mocha Moms are also planning a wide range of national campaigns and activities, including a"Take Your Child to the Library Day," to increase the number of children and families in communities of color who obtain library cards and who read for enjoyment.
A similar partnership launch and Boys Booked on Barbershops event is scheduled for October 25 in Atlanta."
Source: PRN/Photo: BuzzologySurveys
The 8th Annual Harlem Celebrity Read A Thon Encourages Literacy Among Harlem Youth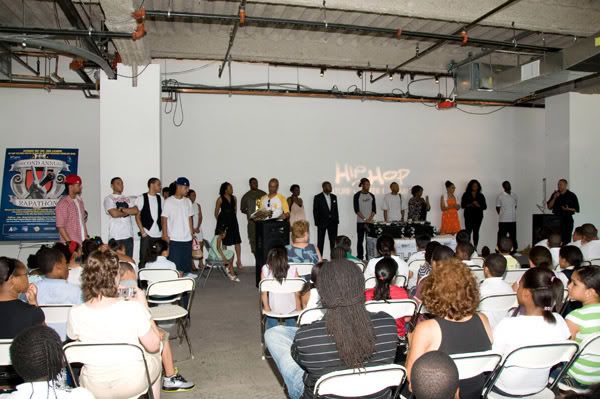 June 12, 2008: The 8th Annual Harlem Celebrity Read-A-Thon is part of an ongoing commitment by Harlem USA, a retail and entertainment complex, to encourage literacy and academic achievement among youth in Harlem through a variety of events and programs which also include an annual Kids Chess Tournament and a series of art exhibits. "Every year we look forward to gathering the kids and giving a bit of ourselves by spending these few hours with them and encouraging them that we must continue to read," says Ricky Day, Director of Marketing for Harlem USA. Source:
TheHipHop Cosign
Celebrity readers included (from top, L to R) Danica Daniel, Editor in Charge of Black Beat/Right On! magazines; and actress Lisa Arrindell Anderson; (Bottom L to R): Actress Napiera Groves and MTV DJ DJ Superstar, among many others.
Photos: Wireimage and 2Rs Entertainment